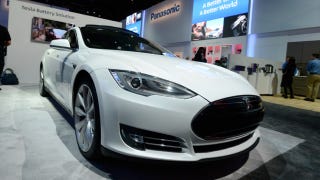 We're just parsing Tesla's fourth quarter 2013 earnings report but, overall, they're doing well. Their earnings-per-share beat estimates, net income was $46 million, and they sold and delivered a record 6,892 vehicles.
Here are the highlights:
6,892 vehicles delivered, which is a record and good considering a generally slow Q4
EPS of $.033, most were expecting $0.21
A margin of 25% on their vehicles with ZERO money from ZEV credits, which is huge
Model X deliveries by Spring 2015
That bit about the zero EV credits is the biggest takeaway, as they'd previously leaned heavily on what was essentially a handout by other automakers that everyone knew was going away. Here's what they said:
Both Toyota and Daimler powertrain programs remain on plan and contributed $13 million of revenue in the quarter. Q4 sales also included $15 million of regulatory credits revenue, but no zero emission vehicle (ZEV) credit sales.
Is there any word of an Apple-Tesla tie up? No, of course not. Don't be silly. There is, however, a much more potentially important announcement regarding Tesla's gigafactory, which they need because they might use all the batteries. Like, literally, all the batteries.