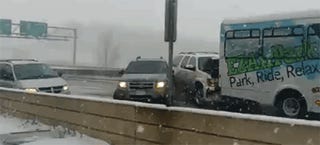 Duck and cover won't do the trick, but if you follow these ten steps, things should be just fine even if you're stuck in a nasty pileup.
---
10.) Stay in the car
If it seems safer than opening the door, just stay where you are. Your car's safety features will be less effective once you're stationery or the airbags have been deployed in a crash, but if you grab the seat belt tight and duck a little, you still have a much better chance than on the open road.
Suggested By: waveridin1959, Photo Credit: alamosapublichealth