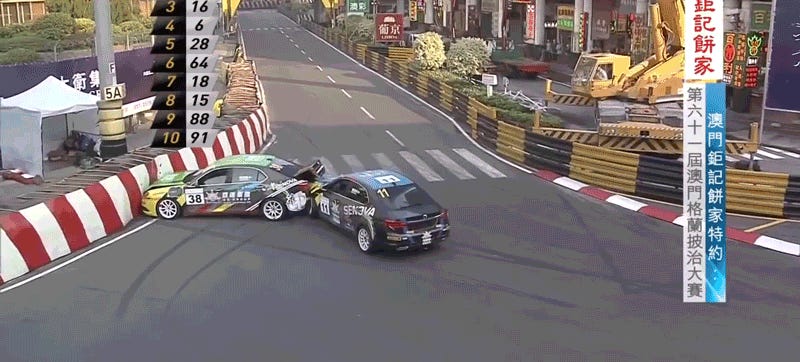 Racing isn't easy, especially as a beginner. Things will go wrong, and that's how you learn. These are ten screw ups, mishaps, and misfortunes that you'll probably suffer at your first race.

---
10.) Dehydration
There are so many things to think about while on track, sometimes you forget about the most important thing. Yourself. Reader Turbolence88 can explain.
No matter how many times you're told, no matter if it's 90 degrees ambient or 9, you don't quite realize just how much energy you exert out on the track and how much you need to drink before you strap yourself into the cockpit.

You may feel fine for a while; hell, you might not even notice a three-hour stint pass you by out on the track like I did. Then you come into the pits for a driver change and it takes half the team to help you out as you hobble towards the nearest chair and bottle of Gatorade to give your cramped limbs a rest as the adrenaline filters from your body.
Suggested By: Turbolence88, Photo Credit: Getty Images
---
9.) Getting Too Nervous
It's your first big race. Sure, there are a lot of things that can go wrong, but just make the most of it and you'll probably be fine. Reader 8695Beaters gets it.
You get super tense and think you have a plan, but it all goes out the window the second the green flag drops. You get nervous, you make mistakes, and then you get desperate. Newbies always put way too much pressure on themselves and make mistakes, either missing corners, or even crashing. It takes some practice and experience to calm down and keep yourself under control.

The old saying is "the loosest nut is the one behind the wheel." It's goddamn true.
Suggested By: 8695Beaters, Photo Credit: Getty Images
---
8.) Forgetting Track Supplies
You can try all you want with pre-race checklists and last minute WalMart stops, but almost always something will be forgotten. You probably won't even realize what you're missing until that third pit stop and you're about to use up that last cable-tie. Stay prepared.