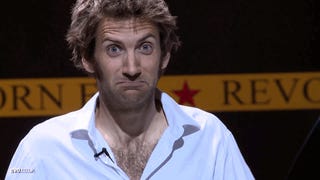 This is Henry Catchpole, Evo's Features Editor. He has seen a fair share of strange cars over the years, but the Mansory stand at Frankfurt still made his face turn into a massive question mark.
Porsche is celebrating the 50th anniversary of the 911, while Martini has 150 candles on their birthday cake this year. It's only natural they got together once again with Sebastian Loeb behind the wheel...
This is nine-time rally world champion driver Sebastian Loeb doing donuts in the canals of Cordoba. See? Not so gross as it sounds at first.
And you thought rallying was dangerous before the English invaded. [via Ads Of The World]