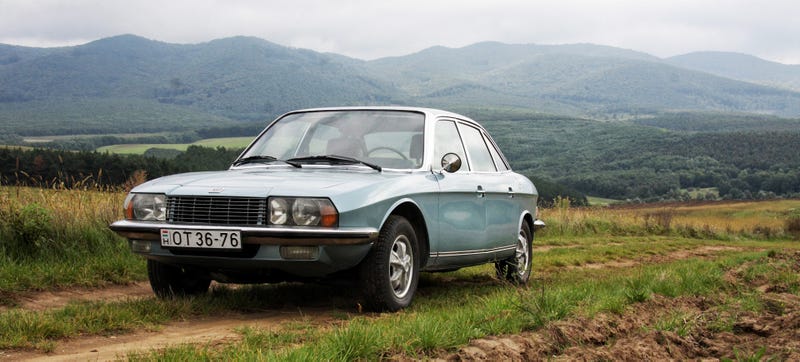 I often ask myself: why doesn't everyone drive an NSU Ro80?
A sporty three-door station wagon, to be exact. And what a car the NSU P10 was!
The Wankel engine is the greatest automotive engine story that never was. It was the way of the future, a simpler engine for an easier life. And today, not one single car is being made with one. Mazda gave it a go for a few years with greats like the 787B and the RX-7, but they weren't the only ones.
Welcome to Project Car Hell, where you choose your eternity by selecting the project that's the coolest... and the most hellish! You say picking one of two choices hurts your brain? Fine! We'll give you four choices today!
Welcome to Project Car Hell, where you choose your eternity by selecting the project that's the coolest... and the most hellish! Last time around, we saw the Chevy-powered RX-7 beat the Nissan-powered Corona in the race to the Lake Of Fire, according to the results of the Choose Your Eternity poll. Before you've…
With the Olds blasting the Chrysler by a decisive margin in yesterday's Choose Your Eternity poll, we figured it was time to go across the water and get a couple of seriously cool- yet sanity-shreddingly difficult- sporty cars for you to choose from today. And, just because no choices are easy in Hell, we're going to…
If this ain't the Craigslist find of the day, we don't know what is. Yes, it's an NSU Prinz from 1960. The seller seems to be in the know about classic Teutonic microcars, as he's tagged the post with Goggomobil. He also notes that you cannot drive the adorable slice of Neckarsulmium back to your abode from his place…
While it is very true that we are stoked to be alive at a time when 400hp, AWD and bacon saving computers are de rigeur, we have to admit that 70s-style hoonism looks like big, dumb fun. No, this is not a demolition derby. The footage is in fact being filmed at the Nurburgring Nordschleife — probably at the infamous…
Before the hate mail starts flowing, Neckarsulmer Strickmaschinenfabrik produced the infamous Kettenkrad tank-bike thingy. Moving on. In 1955 NSU was the world's largest motorcycle producer. But, like Dutch truck maker DAF, they knew the real action was in 600cc microcars, and released an ugly, miserable ride with a…
NSU started out as a sewing machine company in 1873, quickly moved into bicycles, and then into motorcycles and cars. Absorbed by VW in 1970 after investing too much money in rotary engines with too little return, the Audi factory in Neckarsulm still sits at the corner of NSU-Strasse and Felix Wankel Strasse, a…
Oh. Our. Gorschk. This one ranks right up there with the Coronamino as one of the most badical truckcars we've seen yet. The dependably mighty Thor kicked over this full-awesome NSU converted to pickup duty, and all we can say is that we're gobsmacked. We need this more than we need sustenance. Or Greta Van Susteren.…