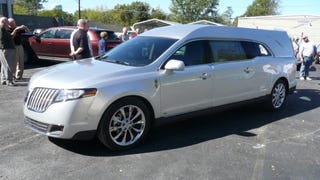 With Ford looking to fill the void left by the Lincoln Town Car in the livery and limousine market, Ford's hoping the Lincoln MKT crossover can do it. Even for hearses. Here's the full story on who made this one.
The 2010 Lincoln MKT is a new kind of vehicle for Lincoln. It's a tall wagon, a short SUV, a high-luxe crossover and it's powered by the twin-turbo EcoBoost V6.
We brought you a look at the new 2010 Lincoln MKT yesterday, and now here's a load of live images of the seven passenger crossover revealed here at the 2009 Detroit Auto Show
It's rare when a production car is better than the concept, but the 2010 Lincoln MKT, set to debut later today at the 2009 Detroit Auto Show, blends style and substance to do just that.
We gave you the info late last night about Ford's new Active Park Assist. Now here's video of the system in action along with the first look at the 2010 MKS's paddle shifters.
Ford's one-upping Lexus with an ultrasonic parallel-parking system it claims is easier to use, more versatile and requires less driver input than camera-based rivals. Amazingly, the whole Ford lineup may get it by 2012.
Mercury rising into the 120-degree range wasn't enough to stop the KGP photographers from grabbing a series of up-close photos of the
Lincoln MKT
doing a bit of extreme weather testing under tire-melting conditions. As reported, the MKT will be getting with a 3.5-liter V6 good for 340 horsepower and 340 lb-ft of…
Ford today officially confirmed that it would be producing the Lincoln MKT and equipping it with the EcoBoost 3.5-liter V-6 engine, good for an estimated 340 horsepower and 340 lb.-ft. of twist, in place of a V8. Unlike the MKT Concept, the production crossover will get three rows and probably fewer Saworvski…
Concept cars are notorious for rarely making it to the street. But what about the enticing features that designers include in their dreamy visions of our automotive future? We combed through the files we've amassed at the show this week and come up with five features that don't stand a chance in hell of ever…
Ford design overlord Peter Horbury introduced the MKT ("T" is for Touring), pointing out several enticing touches. You've got a 3D SYNC touchscreen meant to mimic the iPhone and something called a "bustle-back" rear, which is explicitly intended to convince Americans they're not buying a hatchback. Despite Horbury's…
Just as predicted, the 2008 Lincoln MKT is the Ford Flex-based derivative, though with a wildly different outcome. It's as if they took the Flex and shaved off every angle to create the Lincolnesque profile. This MKT concept features a 3.5-liter V-6 EcoBoost engine good for 340 horsepower and 340 ft.-lb of torque.…
In a boring article about the boringness of alphanumeric naming in the auto industry, the LA Times let it slip Ford will be unveiling a concept called the Lincoln MKT at the Detroit Auto Show. Whoops, that boring article just got interesting. What is this MKT you speak of LA Times? Is it a car? A truck? Is it a…