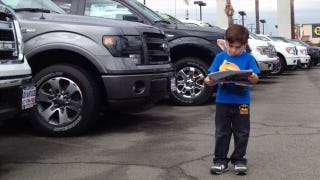 This isn't a new car-buying strategy on how to torture salespeople with toddlers, though that may be crazy enough to work. It's about how one dad is turning his tyke into a gearhead, without going broke, by visiting the showrooms. Even though they aren't making a purchase, the dealers are pretty cool about it.
Some people worry about the children, about how we are leaving the world in worse shape than the way it was given to us. I say Nay Nay. If this little girl is any indication, the planet is in good hands.
We've all learned some positive car lessons from our fathers, but sometimes it turns out that we learned the most valuable lessons about cars from Dad's automotive mistakes. Let's wrap up this Father's Day by discussing our fathers' bad cars!
On this Father's Day Weekend, we'd like to celebrate the things fathers should teach their kids about cars — even the stuff they don't want to know. Thanks, Dad, and yes, we did flush the coolant.
Sometimes, our love for our dad's cars goes a little too far, and we end up harming them. Bill Cosby shares the hilarious story of what happened when he didn't treat his father's ride properly.
Father's Day is Sunday, and we're marking the occasion with a series of stories we're calling Dadlopnik, honoring our fathers and their cars. We're starting off with your stories of the dadmobiles that made you a car person.