Joe is a tall guy who likes his sporty coupes, but now that he's a dad he needs something a little bigger to fit the car seat and baby stuff. But he doesn't want to give up something that can corner. Despite a healthy budget, he hasn't found the right fit. What car should he buy?

(Welcome back to What Car Should You Buy? Where we give real people real advice about buying cars. )

Here is the scenario:

I'm 6'2" and own a BRZ tS, and before then spent 12 years in an S2000. Our current baby carrier is a Subaru Crosstrek. I have a new job and am about to take over baby-carrying duties for my wife. My wife also has a 2006 Mustang GT Convertible which will be her daily. Our son is 19 months and must be rear-facing. Driving enjoyment is high on my priority list. We would be willing to get rid of both the BRZ tS and the Crosstrek for this purchase.

With the driver's seat adjusted for me and a rear-facing baby seat in the rear passenger side, I must be able to sit in every available seat, with relative comfort. This is to accommodate family and friends while I drive. The vehicle must be fun to drive and relatively new (safety is a concern with the kiddo in it). I also appreciate something different—fun colors, rarity, something that makes this car special and can put a smile on my face and make me giggle. Since I will rely on this car to daily myself and my child, reliability is a must. I appreciate upscale interiors a lot and wish to go away from the rock hard suspensions I'm so used to.
I've tried and don't acceptably fit in the following vehicles (per my rigid specs): Acura TLX, BMW X3 M40i, Mazda CX-5 (and the CX-9 was not right either), Porsche Macan, and Subaru WRX STi. I need a car which affords more room than these.

My budget can stretch a bit, but generally, I've tried to keep it under $80k and would rejoice if I found something that met my needs for far less. Keeping it under $50k would be nice.
Quick Facts:
Budget: Ideally under $50,000 could stretch it to $80,000
Daily Driver: Yes
Location: Gainesville, FL
Wants: Fast, Good For the kiddo, comfortable for his height
Doesn't want: Nothing too big or too common
Expert 1: Tom McParland - You Were Almost There
G/O Media may get a commission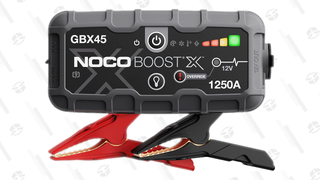 13% Off
Noco Boost X GBX75 Jump Starter
Joe, as someone that also lives the dad life, I can understand your conundrum. When you are a used to lightweight rear-drive coupes it can be a tough transition into a big family car. I know you don't want something huge, but the reality is that as a tall dude that also needs to haul a rear-facing car seat and baby stuff, you are going to have to step out of that "compact" range. But that doesn't mean you have to give up a car that is made for a serious driver.

The good news is you were on the right path with the Macan, you just needed to go up a class. What you need is a Porsche Cayenne. It's a mid-size SUV but it's not a monster, but as you probably know Porsche knows how to brew some witchcraft into their high riding cars to make them handle way better than you expect.
The GTS trim prioritizes handling over the raw power of the Turbo trim and it comes with all the luxury accouterments you would expect. Finding one for reasonable miles at under $50,000 will be a challenge, but you don't need to blow your whole budget either. Here is a certified pre-owned 2016 not too far from you for just under $64,000.
Expert 2: Justin Westbrook - Why Not Scream Money?
Hey Joe. I am young and probably dumb, and only know what I experienced growing up. My dad always had a pickup and my mom always had a sports car. I'm the youngest though, so I don't remember how they handled the baby situation. When I was older, we took the truck on vacations.
I'm not going to suggest you get a truck. I'm going to suggest what I probably would have loved to have growing up, and something my parents probably never really thought of. You seem young, but why not go ahead and dive into the E-Class life?
Right now, this very moment, the Mercedes-Benz website is telling me you can get a AMG E53 sedan starting at $73,300. It's the biggest Mercedes car I could find that didn't go over budget, but which still seemed fun. I have no idea what it's like to be any taller than five-foot seven. Ok, five-foot six. But it's worth checking out.
The biggest complaint in our First Drive of the coupe version was that it didn't look aggressive enough, which I don't think is an issue for you.
The AMG E53 fits within your (stretched) budget, it's probably a lovely daily driver, it sure looks the business inside, it's sure as shit fast, and you only run the risk of turning the kid into a spoiled brat for growing up in the back of a car with an AMG badge. How bad could that be?
Expert 3: Jason Torchinsky — What About This Thing We Were Just Talking About?
Look, I know everyone is expecting me to suggest some custom-stretched AMC Marlin with a pair of flat-twin BMW engines or something bonkers like that, but a painful bout of rationality has just come over me, so let me just get through it as quickly as I can. Remember yesterday when Tom was raving about what a great deal a Jaguar XF Sportbrake is, and how you can still get them here? Why don't you just go for that, Joe?
I mean, it's absolutely everything you want: not too small but not too big, it's a wagon, so it has plenty of room for you and your little kid and all his associated hardware; it's fast (380 horsepower!) and fun to drive, it's by no means common, so it won't get lost in a sea of clones, and, best of all, these things are going for as cheap as $46,000!
Look!
This seems like a done deal. We're done here, right, Joe? Just in case that doesn't move you, I sort of feel compelled to let you know this amazing AMC Eagle is only about 13 grand, looks perfect, and is in Florida, nearish you. Maybe get both.
Expert 4: Patrick George — Someone Had To Do It
My colleagues had some great suggestions, and since driving enjoyment is high on your list, I'd also tell you to look at something like a new or used BMW X5 or 5 Series sedan—both of which we like a lot and should have a good amount of room.

But I'd be remiss in my duties if I didn't at least suggest you look at a minivan, especially the Honda Odyssey or the Chrysler Pacifica, the two best minivans on sale right now. As far as I've been able to determine the Pacifica is a quality vehicle, but truly no one really beats Honda reliability.
You may be aghast that you, an enthusiast, are being asked to consider a minivan—and even more aghast that the editor of this so-called enthusiast site is the one telling you do it. Bunk! We've long advocated for parents to just buy the damn minivan, because there is no vehicle that can handle daily driving and family-hauling duties better than a minivan. Driving enjoyment's at the top of your list? Well, what's more enjoyable than a car that can handle everything you throw at it without having to worry whether it can or not?
The mistake a lot of people make is that they assume they'll be in the minivan forever. This is rarely the case. You van for a few years, and then when the kids are old enough to take the school bus or drive themselves or work in the blog mines like my son Justin Westbrook, you may not need it as much. It's like a tour of duty in the military. Do yours, get out and buy a car you want—a luxury sedan or another sports car. Until then a crossover is just a half-measure.
And you can get an Odyssey loaded at basically loaded at $50,000. They start around $30,000, which would maybe even leave money left over to keep your BRZ ts, and your sanity.
I had to throw this out there. At least try it. You may fall in love with the minivan life, or you may decide you simply cannot make the leap—at least, not until more kids show up. But it's worth a look.