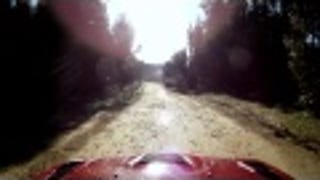 X-Raid's rally team worked up this Mini Countryman to fly over, as well as traverse, the blinding white dunes of Argentina's Fiambala, the vast Atacama Desert and the death-defying descent into Iquique in northern Chile. It's the 2011 Dakar, Mini-style.
Mini let slip a few Countryman pricing details at yesterday's press launch for 2011 models. The big news? The four-door Cooper will start at a base price of $22,350 — only $550 more than the equivalent Clubman. [MotoringFile]
Mini will return to the World Rally Championship next year with this kitted-up Mini Cooper Countryman S, powered by a 1.6-liter DI fourbanger gently massaged by BMW. Expect regular Mini drivers to begin dressing as Paddy Hopkirk for Halloween.
The Mini Countryman crossover/SUV/bloated fugmobile hasn't impressed us yet, but the advertising is typical Mini-clever. Example? This fake surfwear billboard around the corner from the real Countryman advert. [Copyranter]
MINI fanboys, set your hearts to flutter, the company's officially announced a return to rallying. Prodrive's developing a World Rally Championship race-ready MINI Countryman for a run in the 2011 series. Rumor has it Marcus Grönholm's interested in driving. [Rallybuzz]
Why this MINI Countryman was hiding in sniper camouflage, we don't know. But, judging by the wacky-haired Chinese hipster kids nonchalantly hanging out around the hidden car, it's got a good chance at taking a few out.
The first four-door Mini, the Countryman, is officially here, continuing the tradition BMW started with the Clubman of watering down this beloved brand until it's almost completely unrecognizable. What's next, a Mini minivan called the "Familyman?"
Someone leaked shots of what is clearly the new MINI Cooper crossover and they show off everything about the new car — except whether its called the Mini Countryman or Mini Crossman. More pics of the biggest Mini below.