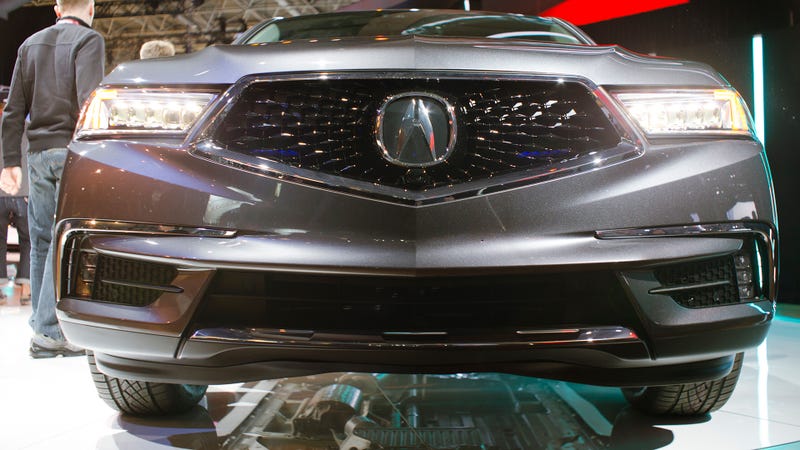 Acura facelifted the MDX, the pointless record holder as the best-selling three-row SUV in history. It still looks cheap.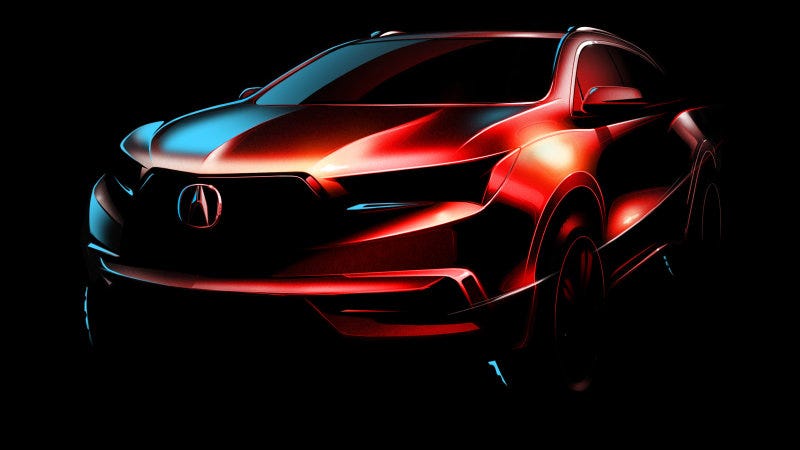 The Acura MDX is a perfectly nice, fine, reliable SUV, ideal for hauling your kids to whatever ultimately inconsequential after-school activity they're into; aggressive and interesting it is not. It seems the MDX is about to get a little more of both, and maybe a lot less of that much-loathed shield grille.
In an event sure to generate as least as much excitement — or more, probably — as the surprise appearance of the Subaru WRX Concept yesterday, the first official photo of the Acura MDX showed up online. If this doesn't get your adrenaline flowing, I don't know what will. You probably don't even need coffee anymore!
All of the big debuts from the Detroit Auto Show have now had the literal sheet pulled off of them. Some of them were great, some of them were ok, and some of them weren't good at all.
"Prototype" is the perfect word to describe the this MDX concept as it doesn't appear to look like any Acura, or really any car, we've ever seen before. From its dramatic use of headlights in the front of the car to the inclusion of LEDs — normally reserved for hi-tech electronics — to the glass enclosed cockpit…
The 2010 Acura MDX has been loaded down with technology like no SUV before. That's a good thing, as that tech solves so many of the problems inherent to the SUV form factor.
The folks over at Kelley Blue Book have announced the ten vehicles they predict will have the best resale value over the next five years in each category. Not surprisingly, the Corvette Z06 makes the list for "high performance vehicle" as there's no high privilege charge attached to buying a new one. They predict you…