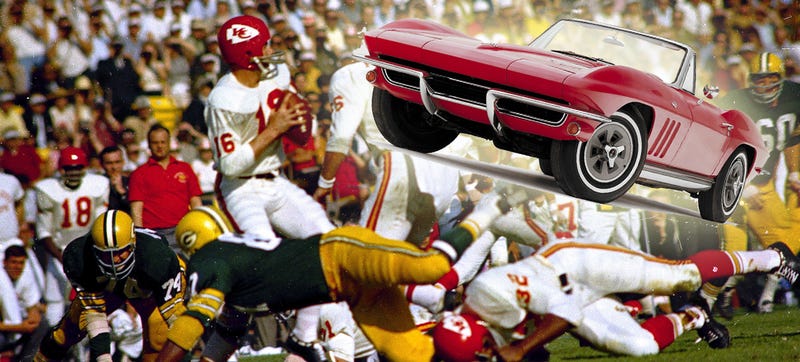 This year is a big one for the Super Bowl. It marks the 50th playing of the game (meaning it's just a few years older than Broncos starting quarterback Peyton Manning, who breaks a record this year for being old.) A lot of history went down the year of the first Super Bowl, especially in the car industry.
In normal Jalopnik fashion, it's time to put a spin on Super Bowl anniversary celebrations by discussing the car-related things that went on around the time Super Bowl I occurred in 1967—from the MVP prizes to the automobile industry as a whole, including the reign of General Motors and one lawyer's ability to slam the iron fist of Congress down on automaker safety standards.

Since it's only fair, let's talk about the actual football game first.
The Super Bowl And Super Bowl I: Jan. 15, 1967
At the very first Super Bowl—a game played between the rival leagues of the American Football League and National Football League—the NFL's Green Bay Packers stomped the Kansas City Chiefs in a 35-to-10 victory at Los Angeles Memorial Coliseum on Jan. 15, 1967.
The winner that year didn't drive off in a Hyundai back then, obviously; first MVP Bart Starr didn't even receive a car to go along with his title, which is something we're used to these days. But the Packers returned for Super Bowl II the following year, and Starr claimed the MVP title once again.
This time, he got a new set of wheels to go along with it. But rather than keeping his new Corvette Stingray, Starr donated it to a youth organization he helped start—the Rawhide Boys Ranch.
Both Starr and his wife had long been committed to at-risk youths. Their own son died of a drug overdose in 1988, leading Starr and his wife to strengthen their advocacy roles. From ESPN:
[Starr and wife, Cherry Starr] became anti-drug advocates and remained committed to the Rawhide Boys Ranch program for at-risk youth in Wisconsin that they helped start in 1965, three years before Starr donated to Rawhide the red Corvette he won as MVP of Super Bowl II.
As for MVP cars in successive Super Bowl events, the prize has an interesting history. General Motors has a bad record with giving away sporting prizes of all kinds in recent years, including recalls on the MVP cars and a lawsuit for failing to deliver Tom Brady's winning Cadillac Escalade ESV in 2004.