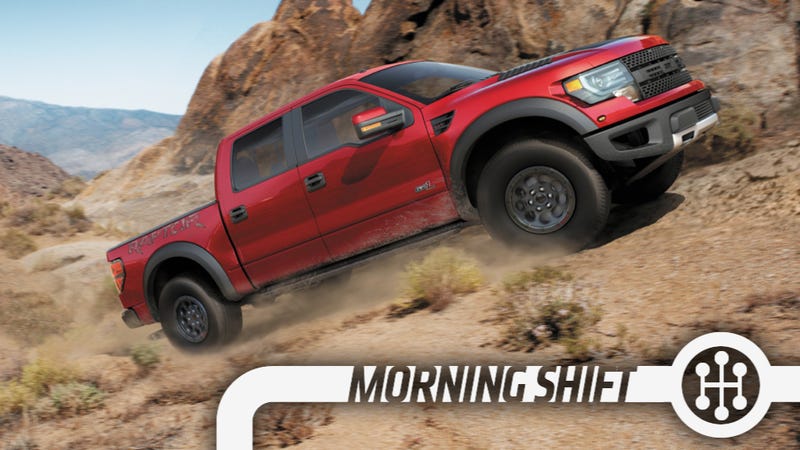 This is The Morning Shift, our one-stop daily roundup of all the auto news that's actually important — all in one place at 9:00 AM. Or, you could spend all day waiting for other sites to parse it out to you one story at a time. Isn't your time more important?
This space has essentially become a vanity card for me where I get to write about what's going on during the week. I have no idea if anyone reads it or not, but here it is.
Going into this season I knew the Astros would be bad, but the opening day victory gave me this false belief that we'd have a better season than everyone thought we'd have. Alas, we went on a six game skid due mostly to cold bats.
Last night? They got 16 runs and hit five dingers. That's the great thing about a young team. When they're great they're amazing, they just don't know how to be great for more than a game or two at a time.
1st Gear: The 2014 F-150 SVT Raptor Special Edition Is Neither A Special Nor An Edition, Discuss
Everyone knows we're suckers for the F-150 SVT Raptor. We're in the bag for it. Say the word "Raptor" and we get a big, stupid grin and go borderline catatonic. Drool forms at the corner of our mouths as we picture ourselves blasting over Baja jumps with Merle Haggard blasting over the speakers. DAT SUSPENSION TRAVEL.
But, c'mon Ford. The 2014 Raptor Special Edition is the kind of sticker package special that we'd hoped automakers were done with. What do you get from Ford?
Ford today reveals the 2014 F-150 SVT Raptor Special Edition, which adds unique new touches to Raptor's existing Luxury Package, including a Ruby Red Metallic exterior color and box-side graphics. Interior upgrades include Brick Red seat bolsters with black inserts and cloth honeycomb highlights, console top finish panel, and center stack and door panel appliqué accents. Raptor Special Edition is also available in Tuxedo Black Metallic.
Look, the fake mud on the outside is a finer grain than the fake mud on a regular Raptor! Or it's Camo or something.
Oh well, so long as it has that sweet sweet Torsen limited-slip diff do we really care?
2nd Gear: GM Goes Back To Facebook
Then GM Chief Marketing Officer Joel Ewanick famously said he'd pull the company's Facebook ad spending right before Facebook's IPO. It created a massive headache for the tech company at the worst possible time.
Guess what? Facebook is still here, Ewanick isn't, and now The Detroit News reports that some of those "new roads" that GM is hoping to find are going to run through Facebook.
That ads will be for the Sonic and will appear on mobile phones.
3rd Gear: EcoMotors Goes To China
EcoMotors, the company building an opposed-piston turbodiesel engine, has signed a $200 million deal to build a plant in China according to Automotive News.