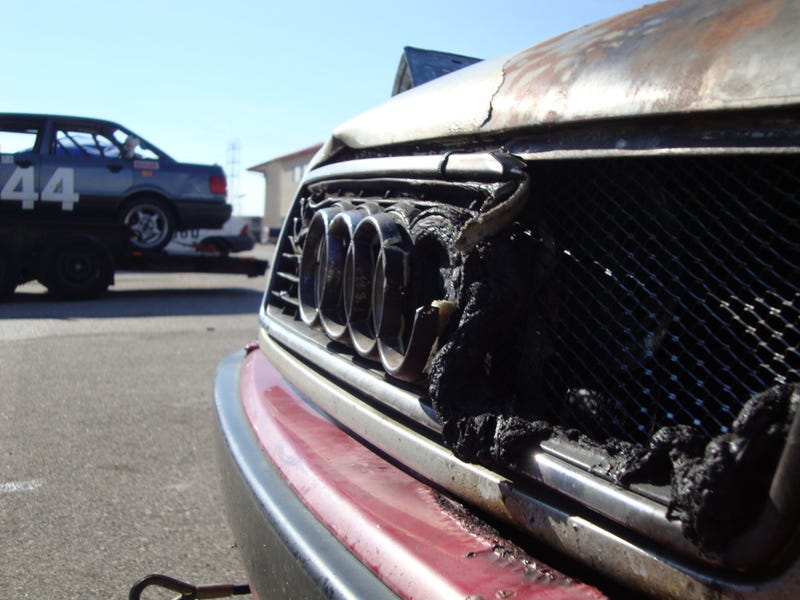 Cheapo beater endurance racing series such as the 24 Hours of LeMons and ChumpCar are a great chance to do wheel-to-wheel racing for a relatively small price. In these series, the first decision you make is often the one that can make you a racing hero or destroy what's left of your sanity. So how do you pick the "right" car?
(A Guide To Crapcan Racing is a new series we're trying that we hope will give you an overview of how to compete in one of the many new cheap racing formats. — Ed.)
Before I even start, let me clear up one thing: these "$500 racecars" usually end up costing far more than $500. A cage alone typically costs upwards of $1500 if you send the job to a professional welder, which you should do if you're anything less than confident in your welding abilities.
That's the biggest component that protects you in a crash — don't tempt fate here.
Then you have the costs of making the car run. Then you have the costs of making it reliable. By the time you factor in additional safety equipment that does not count towards your $500 total, general maintenance of the car, wear items, post-work burritos and probable budgetary cheatin', you're looking at a grand total closer to $5000 than $500.
Regardless, if you're going to be eating ramen for the next few months, you need to choose a car can get excited about and that you will gladly finish sometime within this century.
There are so many cars out there that plausibly pass for $500 that the choices can be a bit overwhelming. Let's narrow down that selection a bit. First, a question:
Why are you racing?
"I just want to try it out, and maybe cross an item off my bucket list."
If this is the case, why go to the trouble of building a car yourself? Hop on to an existing team or at the very least, buy an already prepared racecar. It's best to see if you even like crapcan racing before embarking on your dream build of a 4G63T-swapped glow-in-the-dark LeMons Trabant.
It's far less time intensive to try out a race this way, and much less expensive as well. Check the forums related to the series you would like to run before you even think about searching for "Simca" or "no title" on Craigslist. There are always teams either looking for more drivers or trying to sell an old car that has already been built to accommodate the series' rules.
When considering teams to join, doing a little research into the team you're considering can hedge your bets against disappointment later. Look for a decent record of finishing races as a good indicator as to whether or not you'll get seat time. Ask other racers in the series for references — is this team reliable? What is their personality like? Will I be able to stand their company for an entire weekend? (I know this paints my team as a questionable choice right now, but it's solid advice.)