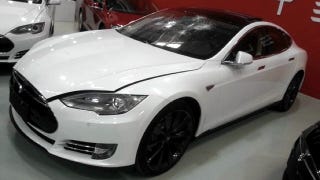 When Yu Xinquan took delivery of his Tesla Model S, he promptly grabbed a wrench and bashed in the windshield to make some kind of point. Yes, this is actually a thing in China.
"It's a protest against the company," Yu told reporters coincidentally on hand. "Tesla's arrogance made me angry."
According to the Wall Street Journal, Yu was the leader of a group of angry Tesla customers that, like Veruca Salt, wanted their cars NOW. They led a protest in April, the day before deliveries began in China, and Tesla agreed to meet with the mob, which even got an audience with Elon Musk who apologized for the delay.