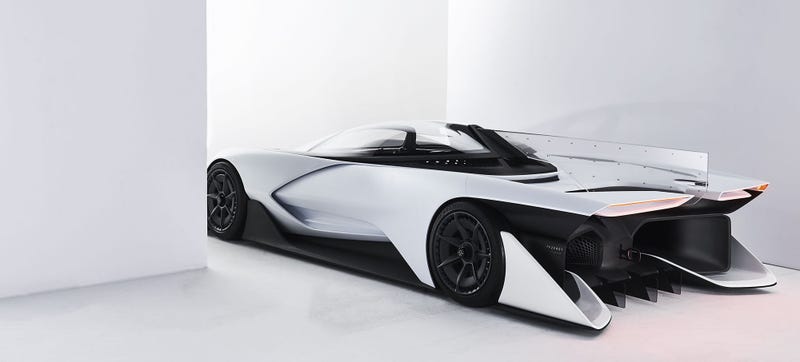 Six top staffers have left the Chinese-backed, Silicon Valley-based startup car company Faraday Future in recent months, the automaker confirmed to Jalopnik following an inside tip. The alleged reason for their departures does not look great for the mysterious company attempting to make a billion-dollar foothold here in America.
A number of people in top positions in Legal, Finance, Strategy, Public Relations and Governmental Affairs at Faraday Future have all left the company over the past two to three months. They are:
James Chen - General Counsel and VP Governmental Affairs

David Wisneiski - Finance Director

Syed Rahman - Operations Controller

Robert Filipovic - Head of Product Strategy

Stacy Morris - Head of Public Relations

Sarah Ashton - Associate Director Governmental Affairs
A quick LinkedIn search only confirms that Rob Filipovic, Stacy Morris and Sarah Ashton are gone. They all list new employers. Faraday Future, however, confirmed all of the other departures.
In a statement FF noted other recent hires, saying they are not necessarily replacements for the six who left but new hires in senior level positions nonetheless:
The EV market is very competitive, vying for a finite supply of quality people. We are proud to say that we are growing quickly and have retained talent with experience from established OEMs, including premium brands including Lamborghini, Jaguar, Porsche and Ferrari, as well as from EV companies. We recently announced several significant senior hires including Bill Strickland, Bart Nabbe, Greg Ryslik, Jin Kim, Joe Zbegner for leadership roles across the company.

Just as we have secured amazing talent, so have other companies from the substantial FF pool of over 1,000 highly qualified individuals. We can confirm that the people you named have left Faraday Future, many of them 2-3 months ago, to pursue other interests. However, Faraday Future's turnover is extremely low compared to the industry standard.

As always, we are focused on our aggressive growth goals and path towards launching our first production vehicle.

Jalopnik has reached out to all of the departed staffers for comment; they either have not replied or declined to comment on the record.

FF is backed by investor Jia Yueting, who is the owner of LeEco, a video-sharing service dubbed the Chinese Netflix. Faraday Future was his first venture into the automotive sector, though now LeEco has another self-titled automotive brand as well. Both promise electric and autonomous vehicles, the likes of which can compete with Tesla and more established automakers.