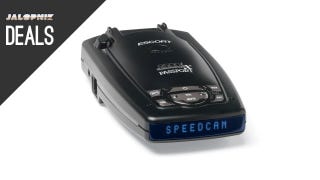 The Escort Passport 9500ix is a top-of-the-line radar detector, and it's basically priced as such. Sears has it today for $400 though, which is $50 less than Amazon, and a solid deal if you're in the market. [Escort Passport 9500ix Radar Detector, $400]
---
Get these deals and more, and earlier on Deals.Kinja. Connect with us on Twitter and Facebook to never miss a deal, check out our Gaming and Movie/TV release calendars to plan your upcoming free time, and join us for Kinja Co-Op to vote on the best products. Got a deal we missed? Post it in the comments with a link and we'll share right to our Deals homepage.
---
The cheapest member of the GoPro family is still a solid action cam, and it basically never goes on sale. Act fast. [Refurb GoPro Hero3 White, $160]
---
This inverter can run directly off your battery, or via a DC power port. With features like two AC outlets, cooling fan, and a low battery alarm, it's absolutely worth the $40. [DieHard 750 Watter Power Inverter, $40]
---
You probably want a bigger tool set for your garage, but this would be a good one to keep in your trunk. [ 20 Piece Dual Socket Wrench Set, $18]
---
This 4.3 star-rated tankless water heater is Amazon's #1 seller, and marked down to an all-time low price, today only. [Ecosmart Electric Tankless Water Heater, $360]
---
Anyone who's tried to exercise in earbuds knows that not just any pair will do. They need to be durable, sweatproof, and above all, fit well. These SOL REPUBLIC Relays check all the boxes, and are marked down to their lowest price ever right now.
In addition to solid customer reviews, these earbuds picked up a Wirecutter recommendationfor best exercise headphones, so you can buy with confidence. Their price has historically varied by color, but today they're all down to $60, which is an all-time low. The black model is already backordered, so don't waste any time ordering. [Amazon]