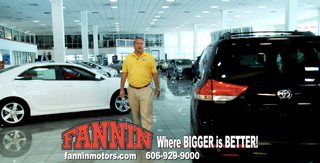 Ken Hart was a 25-year newspaper reporter for Kentucky's Ashland Daily Independent, until a few weeks ago. He was fired, because he criticized a local dealership ad on his personal Facebook page. And the weirdest part is that the dealership didn't even want him gone.
Hart took issue with the ad from Fannin Motors because of the way the children were speaking, telling Jim Romenesko:
"It appeared to me [that they] were being coached to talk like babies because it was 'cute,'" says Hart. "I [wrote on Facebook] that making them do this was likely to get them teased unmercifully in school."
Hart was fired the day after posting it. The publisher of the paper wouldn't give Hart a reason for his firing, but his former supervisor told him it was because the owner of the dealership, Chris Fannin, called the newspaper, and had an angry conversation, threatening to pull his company's ads from the publication's pages.
But Fannin explicitly said he didn't want Hart to lose his job:
"Interestingly, my boss also told me Fannin had made the statement 'Now, I'm not calling to get him fired or anything' during the course of the conversation."
On the one hand, this sounds like a tempest in a tea cup, or like it's easy to cast a villain here. But we do get into issues of journalistic freedom, and a small newspaper's relationship with its local business community.
As a journalist, maybe I'm supposed to rail against Fannin for even calling up the newspaper, and threatening anything. But on the other hand, I can understand how this could be perceived as an attack on his own children, and how that could piss him off.
And then Hart kind of comes across as a jerk, too, and even he acknowledges that, telling Romenesko that he probably shouldn't have criticized those children in public (and your personal Facebook page is public, no matter your protestations). He doesn't go on to say why he shouldn't have done that, but I can proffer a multitude of answers, starting from "dude, they're just kids, chill out," to "it's a local car dealership, they don't exactly have Apple's marketing budget."
But we've all gone overboard with criticism. I know I have, and I'll be the first to admit it. Does that mean he should've lost his job?