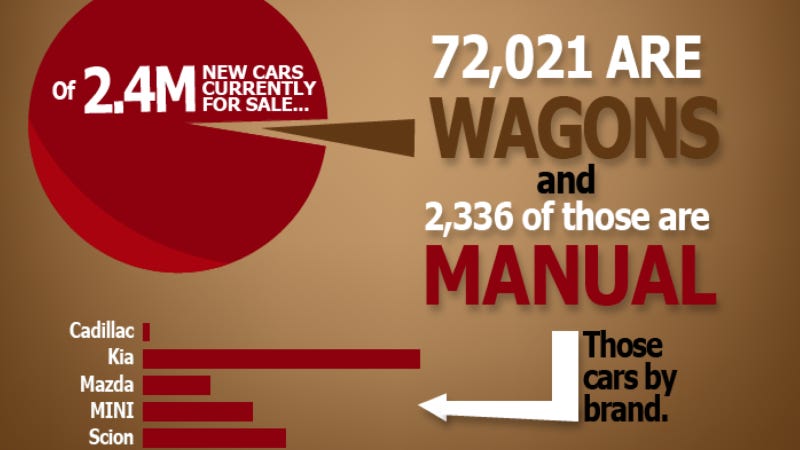 The brown, rear-wheel drive diesel manual transmission wagon could be considered the holy grail of Jalopnik vehicles. Sadly, such a vehicle is nearly impossible to find in the U.S., and the state of wagons with stick shifts is pretty dismal on its own.
Our pal Juan Barnett, whom you also know as the DC Auto Geek, posted an infographic on his blog that shows that of 2.4 million new cars on sale in the U.S., just 2,336 of those are wagons with manual transmissions. That's a staggering .09 percent. Darn you and your manual wagon hate, America!
Perhaps what's even more surprising is who makes them. As TTAC also noted, the manufacturers of manual wagons include Mini, Subaru and even Cadillac but not stalwarts like BMW, Mercedes-Benz or Volvo.
But what about Kia or Scion? Juan says he counted those because vehicles like the Soul, xB and Mazda5 are counted as wagons by the government. Of course, we have different rules about what makes a wagon a wagon. But when you take away those more hatchback-y or van-y offerings, the numbers fall even lower.