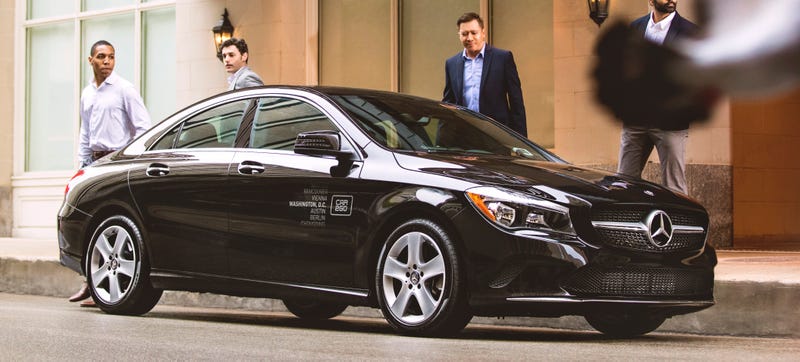 Daimler's car-sharing subsidiary car2go, known for its fleet of tiny blue and white Smart ForTwos, is jazzing things up a bit with an announcement Monday that its members will soon have access to a fleet of Mercedes CLA sedans and GLA crossovers. At last, members won't be limited to just the tiny two-seat city cars anymore.

Similar to easy rental access services like Zipcar, car2go says it carries the world's largest flexible car-sharing service, with 2.2 million members, but until now, those drivers had to pack it in to the company's small, economical Smart cars.
"From a demographic perspective, there are people that are out there that might not want to join a car-sharing service because, maybe they said, 'Listen, I want to use car2go, but I only see that it's a two-seater,'" Paul DeLong, car2go North America's CEO, told Jalopnik in an interview.
It's that demographic the company wanted to tap into, he added.
A pilot study in Canada found car2go users were avidly using a fleet of Mercedes B-Class mini-minivans, which helped spur the company's decision.

"We're not getting rid of the Smart, we're just adding to the fleet with these Mercedes-Benz units," he said. "People will still have the option to take Smart, but most importantly, we know that having a four-door vehicle, it does offer us additional use cases."
As the only car-sharing service offering a Mercedes for a one-way ride, car2go says the fleet will first be rolled out in the coming weeks in Austin, Texas; Portland, Oregon; Seattle; Toronto; Vancouver, and Washington D.C. The number of cities will be expanded in 2017, DeLong said.