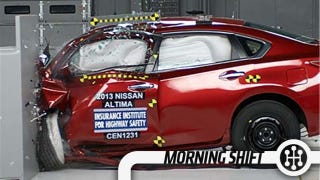 This is The Morning Shift, our one-stop daily roundup of all the auto news that's actually important — all in one place at 9:30 AM. Or, you could spend all day waiting for other sites to parse it out to you one story at a time. Isn't your time more important?
1st Gear: Do All Your Recalls Now
Man, if you're a car company and you need to recall some shit, recall that shit RIGHT NOW while everyone's thinking about/talking about that GM recall. Seriously, Nissan is recalling roughly a million cars because buggy software could disable the passenger seat airbag.
This is a serious issue, obviously, and at least two accidents have been linked to this incident. Most of the cars are Nissan or Infiniti products made in the last two years — including the Altima, Sentra, and Pathfinder. And most of them are in the United States or Canada.
The good news for Nissan is that they apparently caught it early and it's a software fix so there's no waiting for parts to be produced. Oh, yeah, and it's also like farting in a pig pen given everyone else is knee deep in GM.
2nd Gear: Plaintiffs Tell Judge To Tell GM To Tell Customers To Stop Driving
For example… I'm definitely going to report that the plaintiffs in one of the lawsuits against GM are asked a federal judge to make GM tell their customers to not drive their cars until they're fixed.
That would be in lieu of their kind of shitty advice they're giving out now.