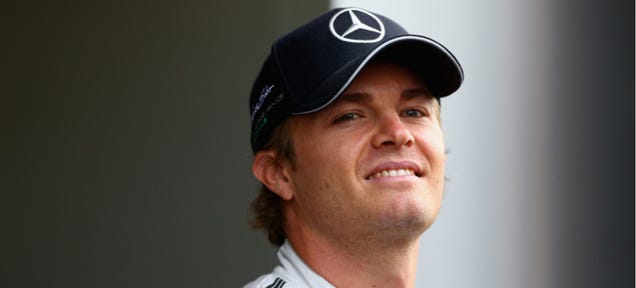 Today's Formula One Grand Prix of Belgium was fairly uneventful for most people, as these things go. Except for the Mercedes team, which right about now seems like they're ready to kill driver Nico Rosberg, for colliding with and ruining the race of teammate Lewis Hamilton.
Rosberg had started on the pole at the Circuit Spa-Francorchamps, but got off to a pretty crappy start which saw him drop back to third. Desperate to claw his way back no matter who was in front of him, not even the guy on the same goddamn team, Rosberg tried to pull around for an outside pass on Hamilton on the second lap.
Rosberg, who is normally a good driver, instead clipped Hamilton's rear tire with the sharp endplate on his front wing, sending that bit flying, but also completely puncturing Hamilton's rubber.
Hamilton's race was ruined, and he was able to get out of the pits in 19th place, but he was eventually forced to retire with only five laps to go as his car became more and more impossible to drive.
"It's not a give up thing. But I lost 40 points (of downforce). I was driving the ass of the car." - Hamilton #F1

— F1 Grid (@F1grid) August 24, 2014
Nico Rosberg, being Nico Rosberg, managed to finish in second place. And he seemed pretty happy about that.
Unfortunately, no one else on his team was, including his boss, Mercedes-Benz executive director for motorsport Toto Wolff:
Toto Wolff: "It was an unacceptable risk. For our drivers to crash into each other - unbelievable." #f1

— ESPN F1 (@ESPNF1) August 24, 2014
But don't take it from Toto, take it from Mercedes F1 non-executive chairman and F1 legend Nikki Lauda, who placed the blame squarely on Nico:
Mercedes non-executive chairman Niki Lauda: "Very simple. It is unacceptable for me that in the second lap NIco hits Lewis. Unacceptable."

— Andrew Benson (@andrewbensonf1) August 24, 2014
And what made it even better was the hilarious booing of Rosberg as Eddie Jordan tried in vain to interview him.
But remember, it's not like all this asshattery emerged out of nowhere. The two have been dueling it out all season, and Hamilton's known to be extremely competitive as well, like at the Hungarian Grand Prix, where he refused to let Rosberg pass over the team radio:
And so, it continues. At least until one guy puts another completely into the wall.
UPDATE: For all those saying it was purely an accident, it looks like Rosberg just admitted some degree of intention:
Lewis Hamilton says Nico Rosberg has admitted in post-race meeting he allowed contact to happen "to prove a point" #f1

— ESPN F1 (@ESPNF1) August 24, 2014
Photo credit: Getty Images