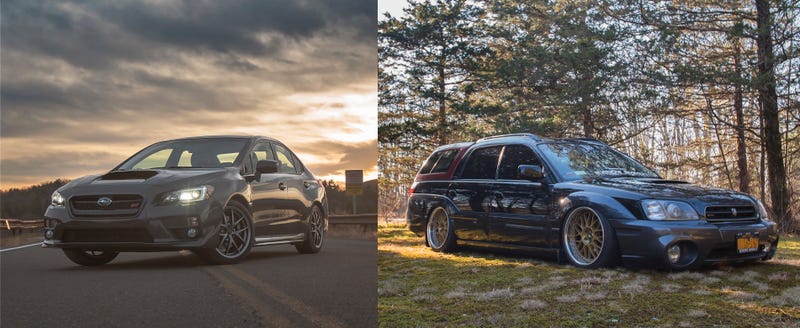 I have loved cars since I could talk, and I've loved Subarus almost as long. I love them so much that I daily-drive one of the wildest and worst Subies in New York—a bagged and stanced 2005 Baja Turbo. But when I talked my way into a brand new 2016 WRX STI, there was only one question. How does a modern, proper, unmolested Subaru compare to my monstrosity?
Yes, I've gone off the deep end. This is happening.
Yes, That Is My Daily-Driver
Photo Courtesy of Jacob Tompkins
Hi, my name is Jared. I currently suffer from the "Stance Life." Yo.
I also happen to be one of the video creators for Jalopnik's YouTube channel. Ever since the Fast and the Furious movies (as well as my discovery of the Long Island Subaru Club and NASIOC) back in the early 2000s, I've been into modifying Subarus. As you've surely seen in our season finale of Worst Car Stories, my mother bore witness to my Subaru addiction and ill-fated attempts at modifications.