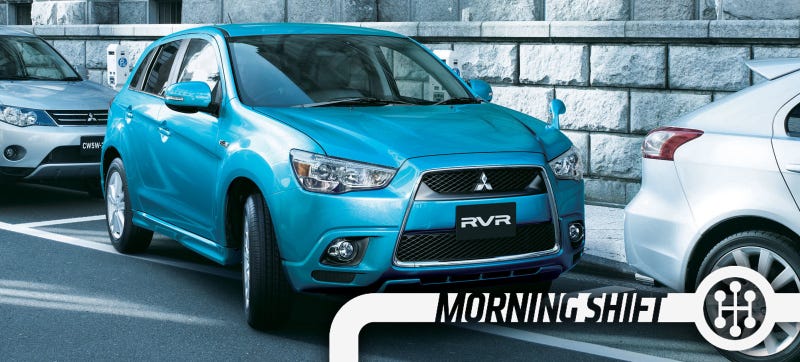 Good Morning! Welcome to The Morning Shift, your roundup of the auto news you crave, all in one place every weekday morning. Here are the important stories you need to know.
1st Gear: Bad Mitsubishi
In the wake of Mitsubishi's Japanese fuel economy cheating scandal, wherein the automaker fiddled with tire pressures during testing for better results then got bought out by Nissan (does anyone else find this whole thing HILARIOUS because I do), its technology division will now be monitored by a third-party auditor.
Here's the scoop from Reuters:
The move, not yet formalized, would see a third-party auditor oversee major research and development and engineering processes and decisions at the company, they said.

This would partly be a response to the company's recent admission that it cheated on fuel economy tests for some models, and would be a way to "modernize" the division at a time of increasing competitive pressures in the auto industry.

"We lag behind in modernizing our tech unit," said one of the two company insiders. "We've not been able to put in place a system that could prevent cheating and irregularities."

[...] "We need to audit aggressively and thoroughly all the engineering decisions we make and processes we take," the Mitsubishi Motor insider said. "We need to ask our engineers: did you test the technology appropriately? Did you input the data correctly and appropriately?"
2nd Gear: Ford Vs. Brexit
As the United Kingdom mulls leaving the European Union, many corporations have expressed concerns about stability. One of them is Ford, which is coming back in Europe after years of losses, reports Reuters:
In an interview with Reuters, Ford Europe Chief Executive Jim Farley said the U.S. automaker's "primary interest" was to maintain stability to increase its business further in the United Kingdom, its largest market in Europe.

"If the UK left the EU, it could create economic instability and uncertainty, the full consequences of which are unknown generally and, specifically, to our business," Farley said.

He declined to say whether Ford had a contingency plan in place if the United Kingdom votes to leave on June 23 but indicated that investment could be at risk if it withdrew.

"Should a vote to leave lead to a significant deterioration in the UK's business conditions and trade environment then that could impact business decision-making, including potential future investment," the CEO said.
3rd Gear: Tesla Fires Back
Tesla Motors is none too happy about the reports—from owners themselves!—about Model S suspension failures, nor how how it led to a slap on the wrist from NHTSA over asking customers to sign what were essentially non-disclosure agreements on the repairs. Here's the response, from Automotive News:
"There is no safety defect with the suspensions in either the Model S or Model X," the company said in a blog post. Tesla said it never asked a customer to sign a document preventing them from talking with NHTSA.

"That is preposterous," Tesla said.

On rare occasions when repairs are discounted or conducted for free, customers are asked to sign a "goodwill agreement," Tesla said in its blog.

"The basic point is to ensure that Tesla doesn't do a good deed, only to have that used against us in court for further gain," the company said.
More on this later today.
4th Gear: Volkswagen's Dealers Are Nervous
As Dieselgate slogs on—a fix is just around the corner!, we're told—Volkswagen's U.S. dealers either want out, or are waiting for things to get better. Via Automotive News:
"There are a good number of people where Volkswagen stores are losing money, and they don't see it as a strong franchise. They're saying, 'Let's move on and use the real estate for something else,'" said Alan Haig, president of Haig Partners, a dealership buy-sell advisory firm in Fort Lauderdale, Fla.

"There are others who see an opportunity and say, "I can't buy a franchise cheaper than Volks-wagen these days.'"
The brand's lineup struggled in America before they couldn't sell TDIs anymore, and this scandal marching well into 2016 isn't helping anything.
5th Gear: MV-1 On The Upswing, Maybe
The MV-1, the vehicle that looks like a bulked-up Honda Element built for people with disabilities, crashed out years ago despite a $50 million taxpayer loan from a program that also funded Tesla and Fisker. Now it's "reborn, retooled and re-energized," as Wards Auto puts it, and hopefully on track for success this time:
The automaker says about 4,000 of its vehicles are in circulation, so its projections for 2,000-2,200 sales this year would mean a serious boost in MV-1 population. More growth is expected beyond that, but targets are set at seemingly achievable levels.

"We're probably talking 5,000-6,000 (sales annually) five years from now," says Executive Vice President Pat Kemp, a retired GM veteran of 33 years who joined the company in January as it was being molded from the assets of the former VPG.

"I don't want to say some pie-in-the-sky (forecast)," he adds, noting the reborn operation still is trying to find its footing. "Basically, we (were equivalent to) a startup when I came in."
Reverse: A Cool Hand