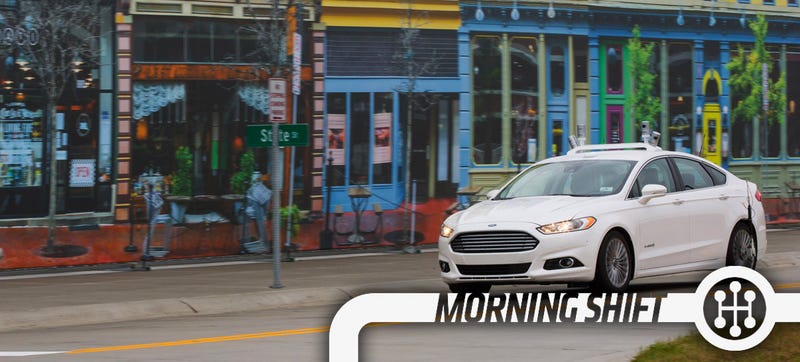 Good Morning! Welcome to The Morning Shift, your roundup of the auto news you crave, all in one place every weekday morning. Here are the important stories you need to know.
1st Gear: Big Things Coming To Michigan
On the same day that Google announced a giant autonomous car testing facility in Michigan, a bill was introduced that could position the state as the go-to place for autonomous car testing, reports The Detroit News:
Sweeping legislation was introduced Wednesday in the state Senate that aims to make Michigan the nation's leader in autonomous vehicle testing by allowing manufacturers to produce and sell self-driving cars here and clearing the way for their use on state roadways.

Sen. Mike Kowall, R-White Lake Township, introduced "broad" legislation that would allow self-driving cars to be operated on any of Michigan's 122,000 miles of roads in the state and would eliminate the need for a driver to be behind the wheel while it's operating.

It also would allow for on-demand autonomous vehicle networks operated by manufacturers — such as a fleet of self-driving Chevrolet Bolt EVs that General Motors Co. is developing with ride-hailing company Lyft Inc. — to pick up passengers.
All of this happens after California last year proposed new restrictions on autonomous car testing, including requiring humans to be present to take control in case anything happens.
Hey, now these cars will learn to deal with bad weather, too.
2nd Gear: Takata Shops Around
Supplier Takata is in a ton of trouble over the potentially lethal airbags and the millions of cars that have to be recalled over them. But it's probably too huge to just go out of business; instead Takata will probably find a new owner, including possibly one U.S. company, reports Bloomberg:
Takata Corp., the air-bag maker facing billions in possible costs for the biggest recall in automotive history, is in talks with potential buyers including KKR & Co., according to a person familiar with the matter.

Talks are at a preliminary stage and KKR isn't the only candidate, said the person, who asked not to be named as the discussions are private. Akiko Watanabe, a spokeswoman for Takata, and Steve Okun, a Singapore-based spokesman at KKR, declined to comment.

Takata's shares surged by 21 percent, the daily limit, in Tokyo on Thursday after the Nikkei reported earlier that KKR plans to offer support and lead a restructuring effort in place of the founding Takada family. Takata has hired Lazard Ltd. to pursue investment in the company as part of efforts that began earlier this year to develop restructuring plans. The shares had plunged 65 percent over the last year, dropping the company's market capitalization to about 38.1 billion yen ($347 million).
3rd Gear: Ghosn To The Rescue
Bloomberg has a good briefing on everything that's facing Nissan-Renault CEO Carlos Ghosn in his attempts to save Mitsubishi Motors, as well as an illustration of the man that I want as my next tattoo:
What Ghosn wants most from the tieup may be more exposure to fast-growing Southeast Asia, where Nissan trails Toyota Motor, Honda Motor, and even the much smaller Mitsubishi. After closing plants in Europe and the U.S., Mitsubishi is focusing on expansion in Southeast Asia, where its popular Triton pickup and Pajero SUV help it sell twice as many vehicles as it does in Japan. It has said the mileage scandal didn't occur there.

"They assured me that there are no problems outside Japan," says Ghosn. "These are people we trust—we have been working with them for four years, and they never told us something which was completely out of whack."
And why wouldn't you trust Mitsubishi?
4th Gear: Big Recall In China
Automotive News reports General Motors' SAIC joint venture in China will need to recall 2.16 million cars over engine crankcase valves that may corrode.
The recall applies to roughly 834,000 Buick Excelle vehicles, 1.1 million Chevy Cruzes, 159,000 Chevy Epicas and 18,000 Chevy Aveos, according to the General Administration of Quality Supervision, Inspection and Quarantine.
Not the Epicas and Aveos!
5th Gear: And A Decent-Sized Ford F-150 Recall Too
Ford is also recalling 271,000 2013 and 2014 F-150 trucks with the 3.5-liter EcoBoost engine for faulty brake master cylinders. Here's Autoblog on what happened:
The Problem: A fluid leak from the brake master cylinder into the brake booster could reduce brake effectiveness, increasing the risk of a crash. The leaky master cylinder only affects brakes to the front wheels and does not affect rear-wheel braking.

Injuries/Deaths: Ford reports allegations of nine accidents with no injuries. Interestingly, though, there is one alleged injury "involving interaction with the vehicle's brakes but not associated with an accident."

Reverse: RIP Model T