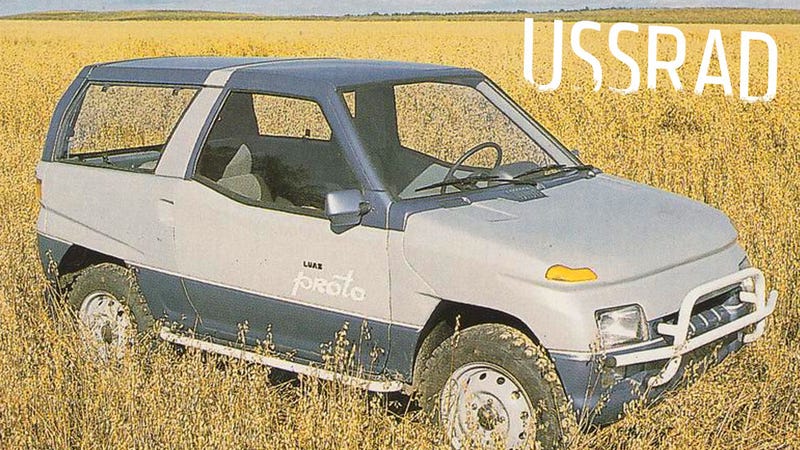 Normally, when we think of Soviet cars, we think of boxy, utilitarian cars that people waited years to get. We don't usually think of fun, despite the somewhat ironic way many of us covet these cars now. But that almost all changed, with a little known side effect of Perestroika that included fun cars. Cars like the LuAZ Proto.
In the late '80s, Gorbachev came to power in the Soviet Union and ushered in the era of Glasnost and Perestroika — new policies of openness and transparency that we're finally loosening the iron grip of the Soviet state. During this period of experimentation, Gorbachev wanted to encourage young auto designers, and encouraged the establishment of a small unit at the national automobile research labs, known as NAMI.
This six-person team, based in Leningrad, was tasked with coming up with a small jeep-like vehicle for rural use, and the Ukrainian LuAZ plant would build it. In a move unusual for the Soviets but reflective of the new policy changes, this team would be competing with a LuAZ factory team.
Two members of this team, Dmitry Parfenov and Gene Hain, were personally selected by Gorbachev because of the work the did developing their own Soviet sports car, the Laura. I'll cover that fascinating car more soon. Oh, and that small group seems to have developed into this car armoring firm as well — that'll also be worth investigating more.
The resulting vehicle, named Proto in what can only be a very prescient attempt to make Google searches more difficult, was clearly the result of the heady feelings of independence and freedom in the air, because it's anything but boring and utilitarian.
In some ways, it reminds me of a smaller, more versatile Vehicross: modern, and while not traditionally sleek, having a very high-tech sort of aesthetic about it. The mechanicals were largely from what was available: the engine was a MeMZ-245, an 1100cc 53 HP four, though the transmission was all-new. It was a six-speed, unusual for the time, with the first two gears being ultra-low for offroad use, and all four wheels were driven, the front two right off the gearbox without a transfer case.