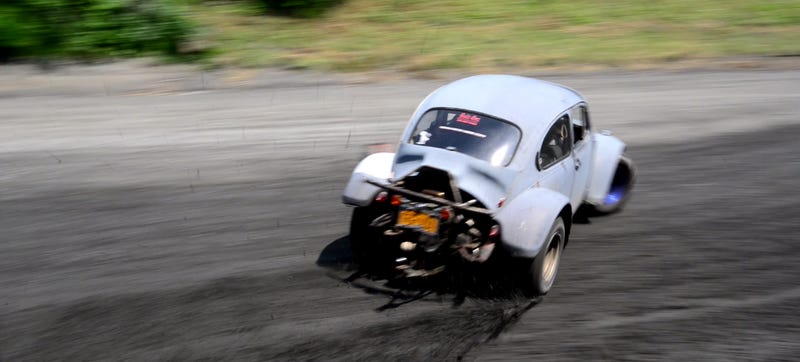 "It's tippy-er than I thought it'd be," Wyatt says. It's unclear if he means that the car turns in faster than he expected, or if the car feels like it's going to roll over. I get the sense he means the latter.
Wyatt turns right into that last corner with a sharp, strong lift off the throttle and the back comes swinging around. The Baja Bug leans way over, seeming like it's weighing down on the left rear tire alone. Wyatt waits, not getting on the gas. We're sliding and more weight seems to press down on that one corner. Wyatt still waits. It feels like I'm staring out the far side window to look ahead on the course. More lean, more weight on the back tire. We drift past the cone and Wyatt finally picks up the throttle. The car pulls itself together, settles down, and we power away.
I will admit, the whole time I am definitely sure that we're about to roll.
(Welcome to the Continuing Misadventures of Raphael and his Baja Bug, a series on how I buy a half-broken 1973 Volkswagen offroader that I proceed to break, fix, break, fix, and break again.)
We're up at Team O'Neil Rally School and Car Control Center in New Hampshire on the far side of the White Mountains. Wyatt is the director of special projects at the school, meaning he does, uh, erm, I'm not exactly sure he has a clear job description. The last I saw of him he was snow-drifting an Audi R8, but recently he's been busy turning the maze of old logging trails around the school into stage roads for advanced student testing.