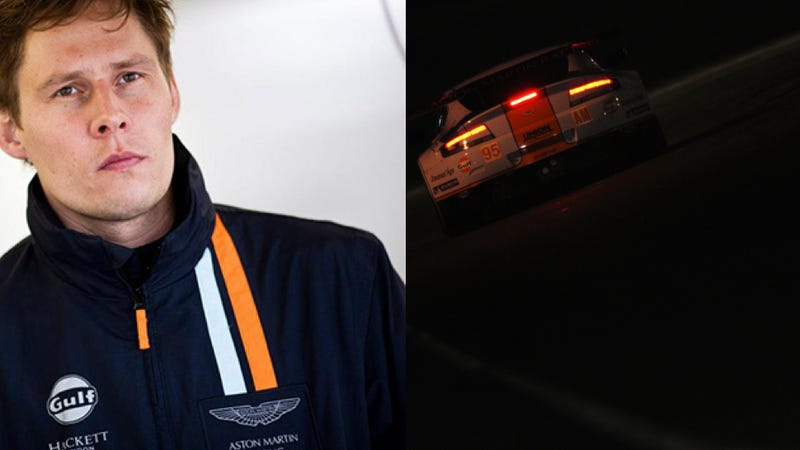 Danish racing driver Allan Simonsen was killed at the 81st 24 Hours of Le Mans today, after his No. 95 Aston Martin spun off the track. He was 34, and this was his seventh time participating in the race.
The Automobile Club de l'Ouest, which organizes the 24 Hours of Le Mans, released the following statement:
The driver was immediately attended on the scene by the doctors from the Automobile Club de l'Ouest's Medical Service.

In a serious condition, Allan Simonsen was transferred immediately to the Circuit Medical Centre where he died soon after due to his injuries.

Allan Simonsen's family has been informed immediately by David Richards, Principal of the Aston Martin Racing team.

Allan Simonsen, an experienced driver aged 34, had taken part in seven 24 Heures du Mans.

His team mates in the No.95 car were his fellow countrymen, Christoffer Nygaard and Kristian Poulsen.

The Automobile Club de l'Ouest wishes to express its great sadness following this incident, and extends its deepest condolences to the family and those close to Allan Simonsen.

The Automobile Club de l'Ouest will make no further statement while the exact reasons for the accident are still being wholly determined.
It was originally reported that Simonsen was conscious upon being extricated from the vehicle. It's not immediately clear what caused the Dane from going off the track, though onboard footage from the car behind his appears to show no contact coming from another car. A warning to those who are sensitive or squeamish, this video does not show the actual impact, though it does show the beginning of a crash that would ultimately claim the driver's life: