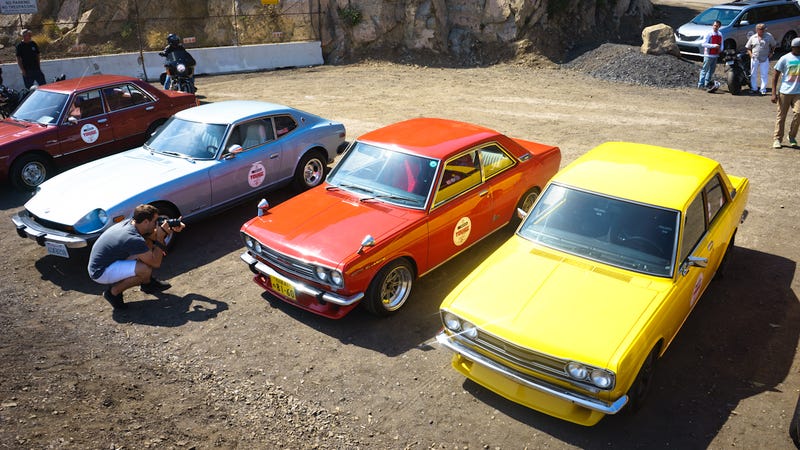 The Supra was the first car to go.

It was a 1984 Toyota Celica Supra, white with maroon interior, velvet seats, silver radio like an Aiwa boombox. Rough on the edges, a 1980s street survivor.
We gathered for the start of the Touge California vintage rally, here on the outskirts of Thousand Oaks, and its owner Joe lived down the street. (This detail will be very important very soon.) The Supra never skipped a beat, he assured me. Its chunky radio, its cracked box flares, its sheer wedginess—I loved it. Needed one of my own.
I handed him a business card and said, "Listen, if you ever get bored with this thing, give me a call."
"You want to ride in it?" he asked.
Photo: Ben Hsu
This was the first-ever running of the Touge California, an event that sprung forth from the mind of one Ben Hsu, the founder of online broadside Japanese Nostalgic Car, and—in a bid to put his money where his mouth was—the wrangler of a daily-driven Toyota Cressida wagon, among six or seven other modest machines.
He had looked upon the likes of the great grand-touring rallies of the past, the Mille Miglia and the Targa Florio, and their modern counterparts in the guise of the California Mille and the Petrolicious Rally. With the operative word here being Japanese: Tōge (峠), or "mountain pass," he decided that it was time for chrome-bumpered Toyotas to shine.
Above, top to bottom: stopping at Mugu Rock; a bunch of chrome-bumpered Celicas; a pair of coincidental Japanese tourists are very amused at gaijin shenanigans.
Yes, 1.) classic Japanese cars are a thing; 2.) being not always shameless copies of Anglo Saxon products, they're not a "poor man's" anything, the way certain idiots describe a 2000GT as "a poor man's Jaguar E-Type"; and 3.) they had always existed before the Pebble Beach set thinks they discovered them, like Columbus laying claim to a New World that had always existed.
"We called our site Japanese Nostalgic Car because, well first of all, the Classic Car Club of America, there were very strict rules on what constituted a classic, and none of them included anything Japanese," said Ben, on the Hooniverse Podcast. "But a nostalgic car—the word nostalgic is also used in Japan, like, they have a nostalgic car show. Classic isn't used as much. It's all about the feeling, the emotion, rather than calling something a museum piece."
Photo: Ben Hsu

Here, then, was the feeling, the emotion, of spirited driving across 120 miles of switchbacks, coastal paths, steep elevation changes, and no shortage of winding mountain passes—the touge—in all manners of Nippon equipment, stock and wild, tall and tiny, of varying levels of bosozoku, and occasionally obscure enough to give Jason Torchinsky the meat sweats.