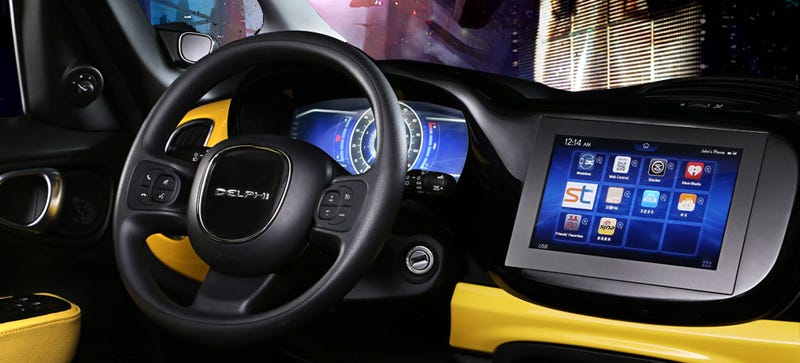 We all want different things from our infotainment systems. But there's been one resounding request from almost everyone: make our smartphones play nice with our dashboard, no matter what device we use. Well, it's here. It's awesome. And, per usual, automakers are stalling.
Delphi invited me to its Mountain View, CA lab to check out its latest R&D projects, and in addition to some slick new user interface ideas and a system that lets you modify your instrument panel's design and configuration from the comfort of your couch (below), it was the seemingly simple stuff that made the biggest impression.
Right now, the problem most new car buyers face is the lack of support for their smartphone. Want a new BMW? You'd better have an iPhone. Same with Audi, VW, Chevy, and even Ferrari. That's not surprising considering the iPod has dominated the portable music player market for a decade and automakers have been supporting that protocol since the mid-00s. But that standard changed with smartphone adoption, and automakers haven't kept up.
To give the people what they want, Delphi's solution is blindingly obvious.
Inside a modified Fiat 500L, Delphi fitted a touchscreen running a custom suite of software that allows owners to choose between Apple's CarPlay system, the all-but-dead MirrorLink interface, and a relatively new offering that connects with Android phones called JustDrive from CloudCar.