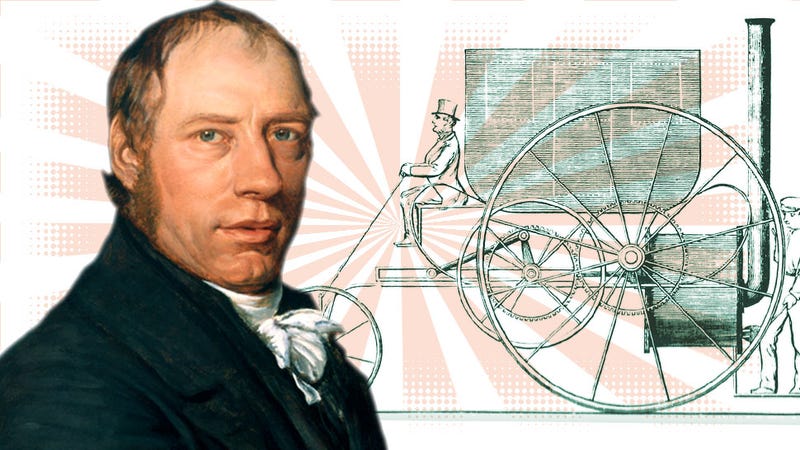 One of my personal missions as an automotive writer is to bring more attention to the very early history of cars, that very important and often overlooked century of development from the late 1700s to about 1880. I don't want Mercedes-Benz to get away with saying they invented the automobile, because that's bullshit. Karl Benz was great, sure, but there's another man who deserves as much or more credit: Richard Trevithick.
It's absolutely insane that Richard Trevithick isn't generally placed along with Karl Benz and Henry Ford in those names that most people – even many non-gearheads – would know in reference to the development of cars. This is ridiculous because when you look at what the man achieved, it's clear that he's much more of an automotive pioneer than either of those other two (still wildly accomplished) men.
Richard Trevithick was also a big guy (sometimes called "the Cornish Giant,") and, while gifted in math, was terrible in school and may have been illiterate all his life.
If you're too lazy to read this whole article, but you're eager to have a bit of knowledge to throw around, then I'll encapsulate what makes Trevithick so amazing with two little facts: he was the first person to design and build a viable passenger car, and he was the person who came up with the idea that trains should run on rails.
Yep, Richie there was arguably the father of both passenger cars and railroads. It may seem odd that one person would have been the pioneer of both of those things, but in my pet theory that cars and trains are really just offshoots of the same overall machine, the automobile, it makes total sense.