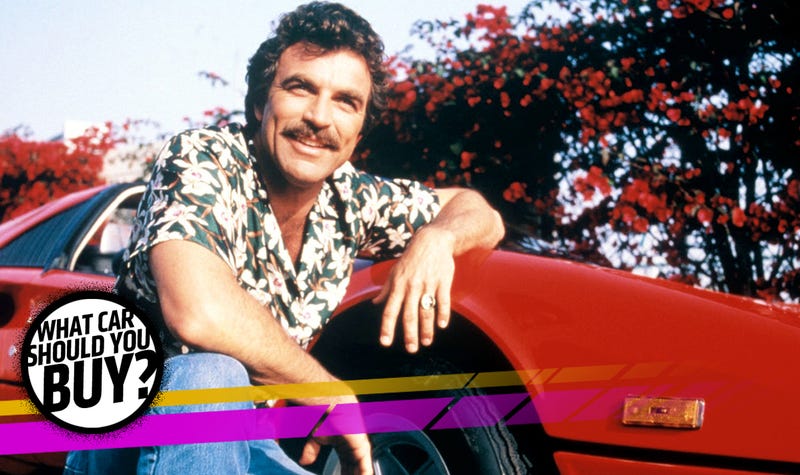 Adam is a private investigator who spends hours behind the wheel getting the scoop and tracking bad guys. He needs a car that is good for work and family, something that can blend in but still looks professional. What car should he buy?

(Welcome back to What Car Should You Buy? Where we give real people real advice about buying cars. Do you want us to help you find a car? Submit your story on our form.)

Unlike Magnum P.I., Adam doesn't work in Hawaii, and for him to nab the bad guys, stealth, patience, and diligence are key. Therefore, he needs a car that he can spend a lot of time in, but won't be noticed easily.

Here is the scenario:

I'm a private investigator and business owner who needs both a surveillance vehicle for tracking down bad guys out in the field, but one that also doubles as respectable business owner's car for when I pull up to sales calls and client meetings. My current car (a 2006 GMC Envoy Denali) is at 200,000 miles and like any car at that mileage, needs to be replaced.

I've got a budget of about $20,000 and the biggest thing is this car must be unremarkable. It's got to blend in. No sports cars, nothing weird or funky. Also, in addition to hauling my gear, I use the car to tote my family around to events and such so it needs to be practical as well.
Quick Facts:
Budget: $15,000 - $20,000
Daily Driver: Yes
Average Miles Per-Week: 200-300
Wants: Unremarkable, comfortable, and practical
Doesn't want: Something that stands out
Expert #1: Tom McParland Is Watching You, Watching You...
Just so you know Adam, I cranked up that Hall and Oates song when I when hunting for some listings for you. You know a phrase that has never been said ever? "Hey, check out that minivan!" For the ultimate in stealth and practicality, you can't beat a van. Minivans might not be fast or fancy, but you won't mind spending all day in one. Heck, if you find yourself in a situation where an overnight stakeout is necessary, a minivan could easily work as a sleeper if configured right.

There are tons of vans available for your price range, so it's all going to come down to priorities. On the one hand, you can have this 2013 Toyota Sienna LE with only 23,000 miles. These are great vans that will rack up the miles without any hassle. The problem is that this is a pretty bare bones car without much in the way of extras. Or you could roll the dice a little on the reliability with a 2016 Chrysler Town and Country with 37,000 miles. This one is much newer and for the same money, you'll get yourself, leather seats, rear entertainment, and what I consider the most crucial must have minivan option... power sliding doors.
Either way, these are respectable cars that work perfectly for family duty or surveillance and can easily blend into the scenery.

Expert #2: Raphael Orlove, Invisible Car Aficionado
I don't know if you want a domestic car, as that "reads" as a cop vehicle or a car of some official capacity. You want something that absolutely nobody looks at twice, but has plenty of space and pace. In my personal experience, there is no faster more invisible car than a Toyota Avalon. You read as absolutely nothing but a retiree or an Uber driver, but with the V6 you can spin tire fully across intersections with more power than you will ever need.