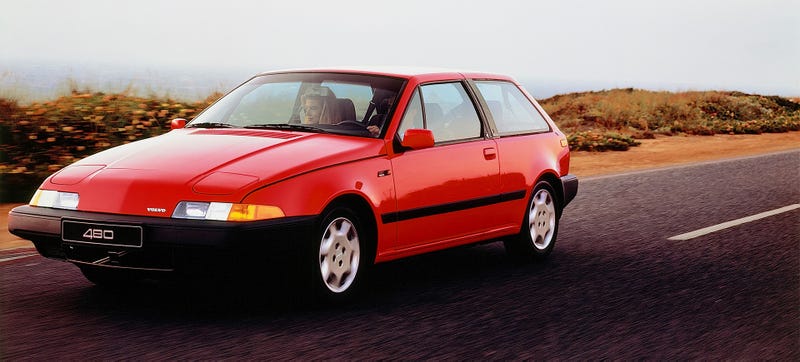 When I was looking for something rare and interesting, I went after a Volvo 480 Turbo. There's good reason for it. This was Volvo's most daring car: futuristic, tuned by Porsche, and now completely overlooked.
I ended up forking out the same sort of money for a car that needed a lot less steel to create, my 1985 Autobianchi A112. I also looked at a second-generation Honda Prelude, but luckily I got scared of those vacuum hoses. Meanwhile, all I really wanted was an E30 wagon.

But even though I didn't buy one, the Volvo 480 celebrates its 30th anniversary at the Geneva Motor Show next week, so let's have a look at how Volvo managed to end up making the most futuristic compact of the eighties.
Since '480 ES' doesn't sound too exciting, let's talk about Project Galaxy instead. That's right. PROJECT GALAXY.
No relation to the Ford Galaxy minivan, Volvo's Project Galaxy began in 1978. Just two years later, the Swedish had their first front-wheel drive prototype. Going from longitudinal engines and rear-wheel drive to transverse front/all-wheel drive cars was a significant step forward. Fiat actually did that with the Autobianchi brand twenty years before, after realizing what Mini was working just fine. By the late '70s and early '80s, even the most conservative companies in the car world were working towards front wheel drive, like GM and Toyota. Volvo followed suit, and the task of turning the concept into products landed at Volvo's Dutch subsidiary, formally known as DAF.