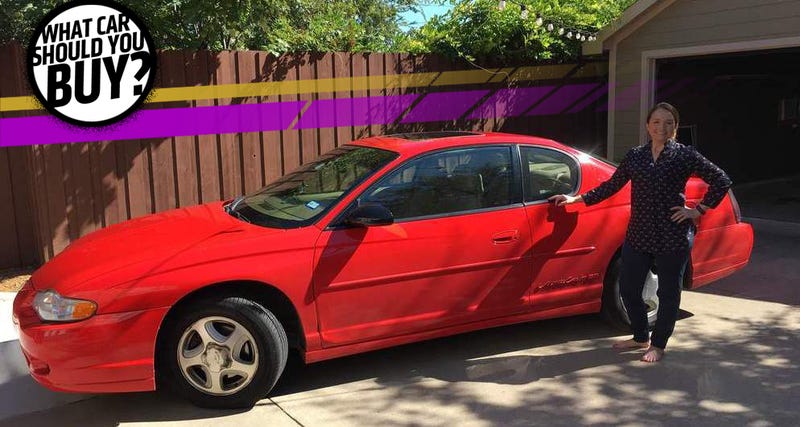 Amanda is a doctor who has soldiered on with a 2000 Chevrolet Monte Carlo that's come to the end if its natural life. It's time for her to treat herself to a nice coupe that can handle long distance cruising, but she doesn't want a typical "doctor's car." What car should she buy?

(Welcome back to What Car Should You Buy?, where we give real people real advice about buying cars. Do you want us to help you find a car? Submit your story on our form.)
It doesn't seem like doctors drive awesome cars anymore. I'm sure most of the younger ones right out of school are still saddled with massive student loan debt. Not long ago, I was treated by a young doctor who was daily-driving a 2007 Scion tC. I kind of felt bad for him.
But doctors in Amanda's area are living the good life, and now it's her turn to get something she will really enjoy.
Here is the scenario via Amanda's husband, Darryl:
My wife is looking for a replacement for her 2000 Monte Carlo SS with 165k miles on it. She's had the car since 2002 and loves its looks and the way the engine sounds in the passenger cabin, as well as its reliability. But last year part of the transmission case wall broke apart and the metal pieces damaged the planetary gears to the tune of a $3,000 rebuild, and other parts (though not the engine) are starting to wear out as it reaches old age. We're tired of the constant maintenance and want to upgrade.

We live in Dallas, the land of G-Wagens, Range Rovers, and M3s. Also, she's a doctor and would like to avoid the "Dallas doctormobile" stereotypes of a late-model-year Porsche or Corvette. In other words, she'd like something a little offbeat.

She'd like something that isn't on the steepest part of the depreciation curve but reasonably recent. It doesn't need to baby (for a few more years) and will mostly be a daily driver, but will be used for annual trips to West Texas/New Mexico to visit family. I can handle light maintenance but having had an issue a month for some time now it would be nice to have something that breaks infrequently—expense is less of a concern as long as we can go long periods without having to take it into the shop.

Finally, we discovered that our driveway is exactly one Monte Carlo in width, so we would need a car no more than 74 inches wide.
Quick Facts:
Budget: $40,000-$50,000
Average Miles Per Week: Fewer than 100
Daily Driver: Yes
Wants: Sporty, good for road trips, coupe preferred

Doesn't want: Something too flashy, Truck/SUV
Expert #1: Tom McParland - Thinks Everyone Should Own An Italian Car At Least Once
Now if you really want to live a little, throw some caution into the wind and find the nicest Maserati Gran Turismo you can for under $50,000. 
Why the Maserati? Because you need a grand touring coupe and it says it right there in the name. It also looks and sounds amazing. You get all the benefits of an Italian exotic without the harshness and impracticality.
Of course, with an out-of-warranty Maserati, you also have to deal with Italian exotic maintenance. But this isn't a car you keep for a long time—this is a car you enjoy for a year or two, and dump it before it becomes a money pit. Then you can brag to your kids how you owned a Maserati and show the other doctors in your practice what a real baller looks like.