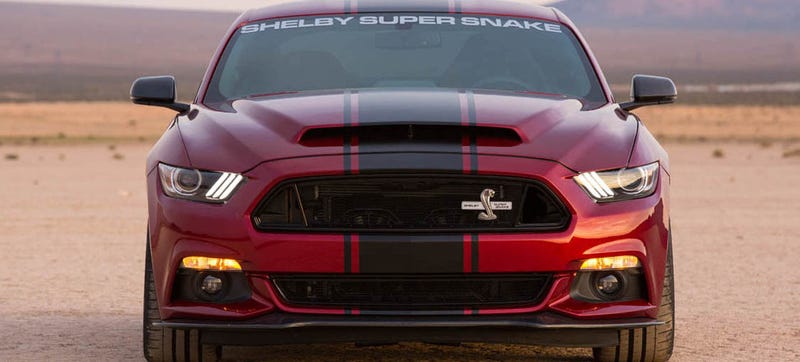 There are Mustangs. There are Shelby Mustangs. But in all of Mustang-dom, few nameplates are as equally revered and feared for their brutal ferocity and tendency to literally send owners to hell like "Super Snake."

Now Shelby American is back with a new Super Snake, a beastly tuned version of the fantastic 2015 Ford Mustang with some 800 horsepower. I went out to Nevada to test it on the track.

I lived to tell the tale, and I'm not sure if that's a good thing or not.
(Full disclosure: Shelby wanted me to test their Super Snake so badly that they flew my camera guy out to Vegas and fed us tasty sushi and lunch. And they let me follow their test driver around Spring Mountain so I didn't wreck their $90,000, 800 horsepower car like a typical automotive journalist.)

A History Of Violence
Super Snake was the moniker originally attached to a 1966 AC Cobra 427 Competition Roadster that the man himself, Carroll Shelby, converted in to a street car. This barely street legal car was supposed to be the "Cobra to end all Cobras."
From all accounts, it was more like the "Cobra to end all Cobra owners." The first one was owned by comedian and now notorious accused rapist Bill Cosby, who found it so hard to control that he returned it to Shelby. The next owner had the same issues and eventually ended up in the Pacific Ocean after driving it off a cliff, cementing the legend of the Super Snake forever.
The following year saw the first Mustang to carry the Super Snake branding. The Shelby GT500 Super Snake was a "one of one" originally designed to be a demonstrator for Goodyear's "Thunderbolt" tires, but as when any time Carol Shelby is involved, the project turned into so much more. Shelby was convinced to stick the 427 cubic inch race motor from the Le Mans winning GT40 into the GT500.
The resulting Franken-Stang had an insane for its time (and still rather loony today too) 600 horsepower and could hit 170 mph.
Unfortunately, the paying public was less excited about the astronomical price for the Snake. At an unheard-of $8,000 dollars—about $58,000 today—a grand total of zero were sold leaving the Goodyear test car the only one built. (Of course as these things go, the one-off car just sold at auction for $1.3 million. Because of course it did.)
Unfortunately in 1970 Shelby, parted ways with Ford due to various differences, and it wasn't until 37 years later that we would see the Super Snake name attached to a Mustang again.
Starting in 2008, owners of the Mustang GT500 could send their cars into Shelby Special Performance plant, just off the Strip in Las Vegas, and $28,000 later would drive out with a supercharged motor, lots of performance upgrades and a nifty badge.
A Very Different Snake
That brings us to the current Shelby's current offering, the 2015 Shelby American Super Snake. Based on the new 2015 Ford Mustang GT, the newest Snake adds the ubiquitous Whipple Supercharger to up the power to a teeth-clenching 750 HP (although I was told that is a understatement, and that the car I tested was north of 800 HP; the patented Robb-O-Matic Butt Dyno agrees).
Send Shelby American your Mustang GT, and $55,000, and they will add a whole laundry list of go fast bits. The boys at Shelby don't stop with a blower; the list of upgrades is as long as it is impressive. Borla exhaust, Handling Package, Cooling Package, upgraded transmission and differential, Weld Racing 20-inch wheels, Shelby/ Wildwood 6 Piston Calipers, 3.73 gears, one-piece driveshaft, and a short throw shifter.
The looks department gets upgrading as well with Carbon hood, splitter, sills, and interior package and an agro looking billet grill.
With most aftermarket tuners, changing this much stuff on a car is usually a recipe for disaster. You get a car that is a.) Undriveable b.) Unreliable c.) Less of a car then the original its based on.
The Super Snake is none of those. As fun as the base Mustang GT is, the Super Snake is so much more of everything.
I'll admit to being a bit concerned before I took to just-above freezing West Loop at Spring Mountain Motorsports Ranch. Eight-hundred HP and high-performance tires on a car with the reputation of trying to kill its occupants is not a confidence-inspiring situation, even for a professional racing driver.
But I was pleasantly surprised. The power delivery of the supercharged V8 was so linear and controllable that I needn't have worried. Despite getting the car a bit squirrelly my first few laps on cold tires, the Super Snake was so composed that I could always bring things back in line without much drama.
As it warmed up and I gained some confidence in the car and figured out the track (I've been to Spring Mountain several times but had never driven this section before) I started to the Super Snake a bit more. The Shelby test driver, who I was following, seeing my increasing speed took this as a signal to drop the hammer. He did so with great enthusiasm.
Track Tested
Through the faster corners the power of the Super Snake was all conquering, barely allowing me to go full throttle before having to lift to brake for the next corner. I believe it was Mark Donohue who said that a car has enough horsepower when you can leave black stripes from the exit of one corner to the brake zone of the next one. Based on that definition, the Super Snake has enough power.
Unfortunately the tight confines of the West Loop (about a dozen corners in 1.6 miles) never allowed me to fully explore the upper reaches of the Super Snake's power.
The wide powerband basically allowed me to leave it in fourth gear and just drive, but it would have been great to have been able to really open things up on the full track. Or at Road America.
One thing that stuck in my mind at the end of the day was how well the Super Snake performed over the full day on track. With a couple of dozen journalists assembled to sample Shelby American's wares, the Super Snake ran pretty much all day without missing a beat.
That's about six hours of continuous track use without overheating, slowing or otherwise failing. That would be impressive for a manufacturer-built supercar, but rare as unicorn poop for one a car that's been this modified.
Now the obvious question is how the Super Snake compares to the Shelby GT350R, which I tested a few months back. The short answer is that it doesn't.