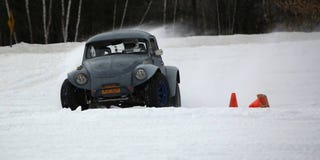 There are few moments of my life I wish I had on video, but the time I nearly ran over my own headlight was one of them.
There is a right way to win your local rallycross. Since it's basically just autocross but on dirt (or snow), you just buy the best cheap, sturdy car you can find on Craigslist, you enter as many events as you can manage, you enter even more events than that, and eventually you sneak out a winning spot just before you collapse to the ground, crying and murmuring about dodging cones.
Then there is a wrong way. This is the story of the wrong way.
(Welcome to the Continuing Misadventures of Raphael and his Baja Bug, a series on how I buy a half-broken 1973 Volkswagen offroader that I proceed to break, fix, break, fix, and break again. As you may remember, last year I rolled my car. Part II of that story is in the editing phase, I swear.