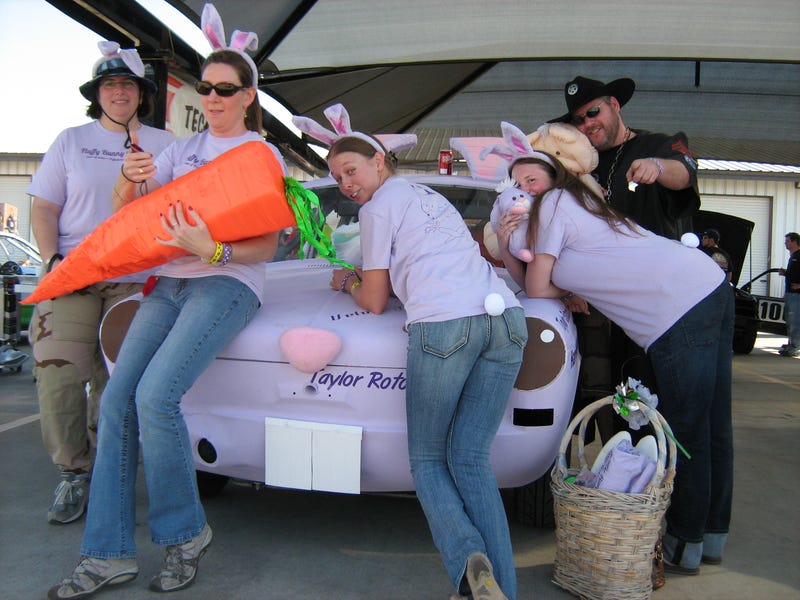 Something about saying "I play with cars!" tends to flip the derp switch in a large number of the guys I meet. Call me picky, but I don't really enjoy hanging out with someone who's reverted back to their twelve-year-old drooling self. So, if you like someone who happens to be into cars and happens to have ovaries, here's my advice on how not to make them run away.
I should probably start with a disclaimer: I've had precious few romantic relationships in my life, but I do at least have ample experience turning away fellows who just rub me the wrong way. You'd think that wouldn't be the case with how much of a sausagefest car events tend to be, but unfortunately, most of the track crowd tends to be older and/or already taken. As far as that is concerned, I might as well be spending an afternoon with the Junior League. Arrgh.
The most annoying thing — by far — about being a female who's into cars is the assumption that by merit of showing up to a car-related event, you're doing something special. Nothing else makes me want to politely shut down a conversation and calmly walk away like the qualifier "for a girl."
I am not special. Rarity does not put me in a category to be kept separate from the general population. I'm here to (try to) be faster than other people. I don't care who those other people are, and neither should you.
Even when The Worst Qualifying Phrase in the Universe isn't spoken, I've noticed an irritating tendency of certain dudes to put me on somewhat of a pedestal. They get all clingy and worshippy, and that just weirds me out. Most of us are used to being treated like one of the guys. Any kind of special treatment above and beyond the usual "I like like you!" stuff is just going to make us feel awkward.
Many of us are constantly looking to get better at what we do. It's more helpful to give constructive criticism or useful advice on something than it is to tell us that we do everything perfect.
If there is a woman who only wants to hear that she's the greatest thing ever, well, you've got a whole 'nother problem on your hands and maybe you should run away in that case. Because I'm not a narcissistic wench, I feel really awkward when I have a yes-man following me around telling me that everything I touch is wonderful (have you seen the cars I own?)