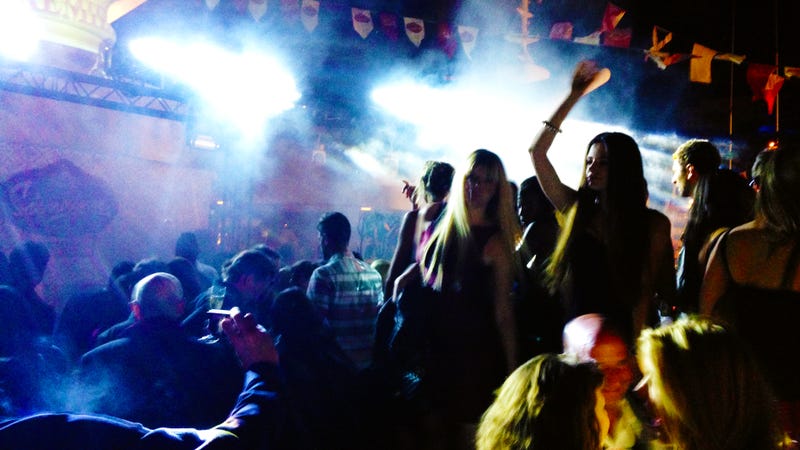 The parties at the Monaco Grand Prix top every party in the world. But I had no idea what to expect. I should have expected an Indian fashion show. I met my idols. I got the cold shoulder from a dickish Jeremy Clarkson. This is what it's like inside Monaco's most ridiculous and glamorous F1 party.
Welcome to Force India's Monaco Grand Prix party. Sponsored by Signature Whiskey and hosted aboard Vijay Mallya's Indian Empress, it was the most awesome, most ridiculous party I've ever been to. Seriously AWESOME. Like Bar Rafaeli and Hannah Simone just hanging out with Zooey Deschanel (if you like her, if you don't, think of someone else) awesome.
Even the cars that drove to the party were ridiculously cool. I'm pretty sure that's a Ruf CTR3 sitting out front.
I knew it would be incredible the moment I received the invitation. It came in a beautiful gold box with a magnetic closure. Inside was a credit card to gain entry. Who does this? Each card was scanned at the door to prevent counterfeit invites. Even more ridiculous was the beautiful scroll, like something a medieval prince would use for a proclamation, announcing the time and location of the party.
So how did I finagle that invite? A fellow Jalopnik commenter set it all up for me! Seriously. Now this isn't your normal Jalopnik commenter. His name is Alfonso De Orleans and he is the team principal of the Race Engineering GP2 team. He also owns what might be the incredible Ferrari street car ever: A Ferrari 355 fitted with a proper F1 engine with paddle shift. And he used to race at places like Le Mans before deciding to run a team instead. And when I say raced, I mean he personally drove at Le Mans. In a Ferrari. Yeah he might be the greatest dude I've ever met and he was the one that made the introduction that got me on that mega yacht.