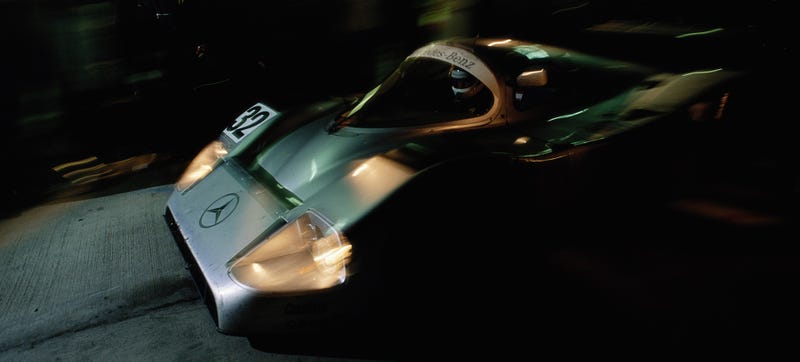 Group C was one of the greatest eras in racing history, producing the fastest cars to ever run the legendary 24 Hours of Le Mans. The story of how it died was, sadly, one that it should have seen coming.
As I said, Group C was one of the greatest eras in racing, possibly an equal to the classic Ford versus Ferrari, Ferrari versus Porsche battles of the 1960s. What's odd is that both eras died the same way.
Back in the early '70s, the organizers at Le Mans became concerned that the big 5.0 liter Porsche 917s and Ferrari 512s competing for overall wins were getting too fast, so they agreed that they would limit engine size to 3.0 liters. By no accident, this was also the same size that engines were allowed to be in Formula 1 at the time. The cars that competed at Le Mans would share their engine designs with the top single seaters of the era. While Ferrari and Porsche etched themselves into history fighting against each other in 1970 and '71, Ferrari and the French Matra duked it out in '72 and '73 using their F1-style engines. These later cars were never as fast or as legendary as the 5.0 liter cars that preceded them. The little 3.0 liter cars, however, were as much if not more complicated and expensive as the cars they replaced. After '73, Le Mans sort of entered a strange era of slower racing, fewer cars and fewer fans. Lots of odd cars won in this era in the absence of big name, big budget programs. For the first time a car without a major manufacturer supporting it won, Mirage, and a few years later a local dude named Rondeau won in a car he himself designed. Porsche won once not with a prototype, but with a 911-based turbo 935. It was a weird time. Only Group C in the early '80s picked things back up.

You'd think that the organizers at Le Mans would have learned from their past, but by the time the early '90s rolled around, they went right back and made their same mistakes all over again.
Porsche had lucked into a winning formula with the twin-turbo 956/962, the first successful prototype cars to use ground effects. Porsche didn't exactly understand how it all worked, but it knew it did work, and Porsche flooded Group C entry lists with privateer and factory-backed cars, dominating much of the Group C era. Porsche squashed everything in its path until Jaguar got its act together at the end of the decade. Even then, old, available Porsche 962s that had been around for years remained durable and reliable high-placed finishers.

For 1991, the rules changed and made the turbo Porsches obsolete. No longer could teams run turbocharged cars. Instead they had to run naturally aspirated engines with a maximum displacement of 3.5 liters. There weren't many other restrictions on the design, and teams could choose anything from six to 12 cylinders and go from there. This just so happened to be the same set of standards as found in Formula 1 at the time. Sound familiar? I think you can see where this is going.

Now, 1991 was a transition year that only gave weight and qualifying penalties to old-spec cars. This was how Mazda loopholed its way into a rotary engine win at Le Mans that year.