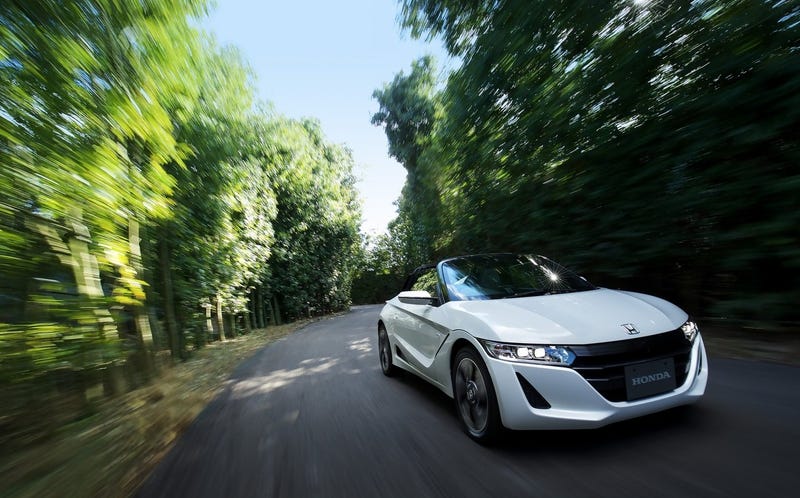 Honda released the S2000 in 1998 as part of a "celebration" of its 50th anniversary. Do the math and the automaker's 70th anniversary is looming in 2018, which is apparently reason enough to validate the years of rumors of an S2000 successor.

Just to get it out of the way—I think a 70th anniversary is bullshit. 50 years is big enough to celebrate because it's half a century of not failing. 100 years is also big. 75 years is less big but still notable because it's an easy fraction of a century still. 70 years is... just like any other year.
Nonetheless Car And Driver is convinced the 70th anniversary of Honda is going to be big, with not only rumors of a new S2000 resurfacing from "sources," but also a new Honda motorcycle.
Here's the chunk of sourced speculation from Car And Driver:
For the 70th, we could be looking at both a new car and a commemorative two-wheeler, as well. "Based on the company's MotoGP contender, the bike will be a detuned, roadgoing version of the RC213V-S," says our source. "As for the car, expect something special. Size-wise, it'll be similar to the Mazda MX-5 Miata, but the Honda will have a lot more power."

Skeptics may note that Honda does not have a platform for a compact, rear-wheel-drive sports car. But our insider tells us to not overlook what the company has done with its S660 mini-coupe and the all-new NSX supercar. "Both those coupes have unique, dedicated platforms, right?" he says.

The article goes on to point to a comment made by an Acura executive in 2014 hinting that everybody wanted a new smaller sports car, but if it was going to happen it would be after 2017. Hey! 2018 works! Except that executive didn't guarantee anything. And also how bullshit would it be if the next S2000 was an Acura?
Car And Driver also points to this year's Acura Precision concept, which was a beak-less 2.0 liter RWD platform. Still, an Acura? Why are they hiding the next Honda S2000 behind Acura?