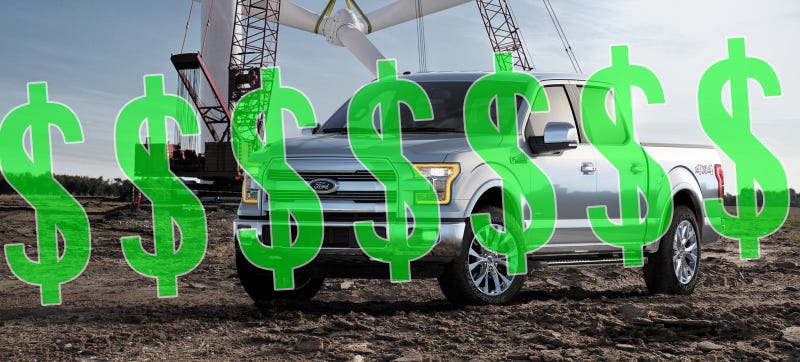 I recently had the opportunity to attend the launch of the all-new 2015 Ford F-150. Here's what happened: Ford flew me to Dallas, or possibly San Antonio, for an evening of brisket, and pie, and musicians wearing blue jeans. At some point, there was also a pickup truck.
No, I'm just kidding. At the F-150 launch, I became intimately acquainted with the all-new F-150, because Ford thoroughly demonstrated each of its excellent characteristics. And I must admit: never before in the history of trucks has a new model offered such futuristic construction, and futuristic high-tech gadgets, and futuristic engine technology, all wrapped up in a package that looks like it's nine years old.
Seriously: it's as if Ford went through a huge amount of money to add all this exciting new equipment to the F-150, and then, at the end, they realized they didn't have any budget left over for new styling. So they decided to hold a company-wide design contest to figure out exactly what to do, and the winning suggestion came from Roger in office furniture accounting, who said: Why don't we put a three-inch piece of black plastic through the middle of the headlights? And everyone clapped, and celebrated, and partied, and Roger was allowed to order a few extra desk lamps that week.
So anyway, I'm cruising through Texas with Andrew P. Collins and a few Ford engineers, when I open the glove box of the truck we're driving to discover something highly interesting: the 2015 Ford F-150 is so insanely expensive.
For those of you who don't believe me, I urge you to come take a walk with me through the Ford F-150 online configurator. First up is the XL model, which comes in at a reasonable $26,400 with shipping. But you don't want the XL model. Nobody wants the XL model, because it doesn't include stuff like cruise control or power door locks. So Ford sells these XL models in bulk to the U.S. Forest Service, who paints them bright green and uses them to track moose migration.
So you step up to the XLT, which starts at $30,695 before shipping. That'll do. So then the discussion turns to body styles: obviously you don't want the regular cab, because you know more than one other human being. So you opt for the super cab, which adds $2,885 to the price tag. Choosing the four-door Super Crew, if you had been so bold, adds $5,235. Five thousand. Two hundred. Thirty-five. For two extra doors. Just for the record, I've purchased working automobiles for that sum of money.
Now, it's engine time. You don't want the base-level V6, especially after Andrew so brilliantly explained just how good the new 2.7-liter EcoBoost is. So you choose that engine, and you add another $795 to the price tag. And then, of course, you choose 4-wheel drive, because this is a truck, and you're a man, and you need to run over stuff. (Unless, of course, you're a woman, in which case you still need to run over stuff.)