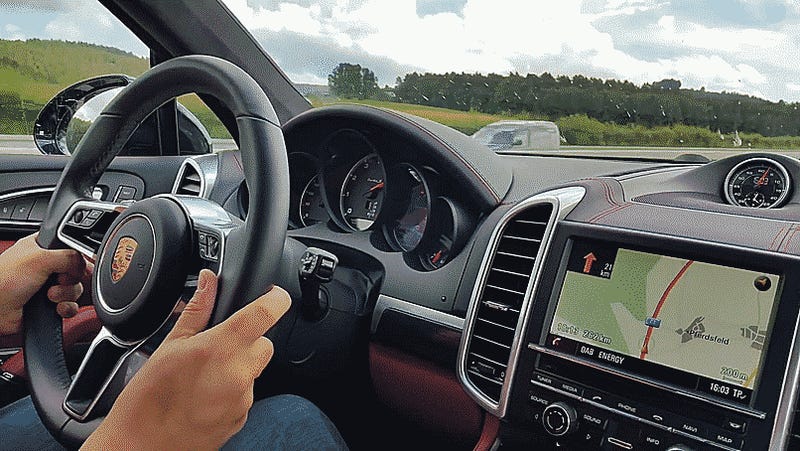 Driving on Germany's network of speed-unrestricted roads known as the autobahn is an experience that every gearhead around the world should try at least once. However, here are a few things that no one tells you before getting into the left lane and smashing the loud pedal.
(Full disclosure: Porsche flew me first class to Germany for the launch of the new Panamera, after which they gave me several hours of seat time in a 577 horsepower Cayenne Turbo S, on roads with no speed limit. Porsche provided fuel, but didn't even ask me if I possessed a driver's license before handing over the keys.)
Top Speed Doesn't Matter, Cruising Speed Does
The German autobahn is a network of roads developed after World War II, although many improperly cite it as Adolf Hitler's invention. It was designed to compete with air and train travel within the the country's borders, which meant that people had to be able to drive across the country freely and safely, but perhaps more importantly, had to make good time doing it. This idea prompted the German authorities to enable certain stretches to have no speed limit at all, single-handedly cementing it as the chronic speed freak's paradise.
However, once the novelty of being completely unshackled by Big Brother wears off, you're still left with a vehicle and a place to go with a certain amount of time and fuel to get there, and that's when things get awfully practical. You see, bouncing off the rev limiter in high gear for prolonged periods of time works if you're trying to deduce exactly what sort of drug the manufacturer was on when they came up with the top speed figure for your car, but it obliterates your fuel economy, as evidenced by what was accomplished in one three-hour drive by me trying to best a top score of 180 miles per hour:
During the fuel-destroying run, I did manage to best the manufacturer's top speed figure by a marginal amount, but it didn't actually result in me realistically getting to my destination any sooner.
The others in my four car group, driving mechanically identical cars, managed to accelerate to a formidable 150 mph and stay there for most of the journey, shifting to higher gears and remaining at a reasonable RPM, while I was accelerating like a frantic idiot. Their brisk pace gave them half a tank of usable premium fuel left, but my car was pleading with me to take it to the next fuel station before it gave me the silent treatment. I beat them to the scheduled stop by about 10 minutes, but managed to kill sixty Euros worth of fuel and took twice as long to refuel. It was also likely that they didn't blow past unassuming trucks at a closing speed deemed unsurvivable in a crash, and may have probably been a bit better off had something catastrophic occurred.
This is the exact reason why planes don't fly at top speed all the time, it's because cruising speed matters in terms of fuel management, cost, and safety, the last of which is a serious consideration with German authorities, which is why...
The Roads Are Constantly Under Construction
I'm not sure this needs to be said to anyone with a functioning brain, but a road that is pummeled by cars traveling a high rate of speed on a constant basis will probably need a little looking after from time to time. Although the aspect of total automotive freedom is liberating, it also comes with the caveat that you could get seriously, seriously hurt if something goes wrong, as was the case a few years ago, with Motor Trend person, incredibly bad tweeter, and paid oil company shill Jessi Lang.