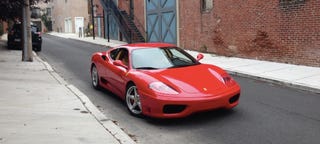 I've owned my Ferrari for 329 days. In that time, it's travelled 5,022 miles in five U.S. states. It's been the subject of 24 Jalopnik columns, totaling 2,082,131 views, and 17 YouTube videos, reaching 4,424,998 plays. And now it's time for one last number: exactly how much has this car cost to own?
I'm writing this column as the final farewell to the Ferrari, because it addresses the question I get more often than any other: what does it cost to own an exotic car? (That, and: "Is that the new Mustang?!")
My whole life, I've heard stories about Italian car ownership: "Five thousand dollar oil changes," people say. "You gotta take out the engine out for every service." But just how much of that is true? Well, it's time to find out – so here's my one-year Ferrari total cost breakdown:
Depreciation
Depreciation was my single greatest expense: I paid $86,500 for the car in January, and I sold it last week for $78,000, for a total loss of $8,500. While that may seem like a lot of depreciation for a 10-year-old car in one 12-month period, there are a few key factors that accelerated my depreciation curve a bit more than normal.
Number one: I was in a hurry to buy and sell. Most Ferrari owners take months, or even years to find the right car — but because I was eager to get the car and write about it, I only took weeks. As a result, I probably paid a bit more than I should've — but I got a low-mileage car with no issues.
Likewise, when it came time to sell, I wanted out before the snow started falling — and before the end of the year. And since I tax deduct my depreciation expenses, I wasn't eager to nickel-and-dime the buyer out of every single penny. So I probably rushed through the sales process a little more than usual.
If I had stubbornly held out when buying and selling, I think I could've bought the car for $85,000 and sold it for $80,000. Not bad for 12 months and 5,000 miles in a Ferrari.
And the CarMax Offer?
You'd already know it if you followed me on Twitter, since I posted it a few hours ago – but the famous CarMax offer was just $64,000, or fourteen grand less than what I later sold it for. But before you get too angry about this, just remember: they've got to pay for those Range Rover warranties somehow.