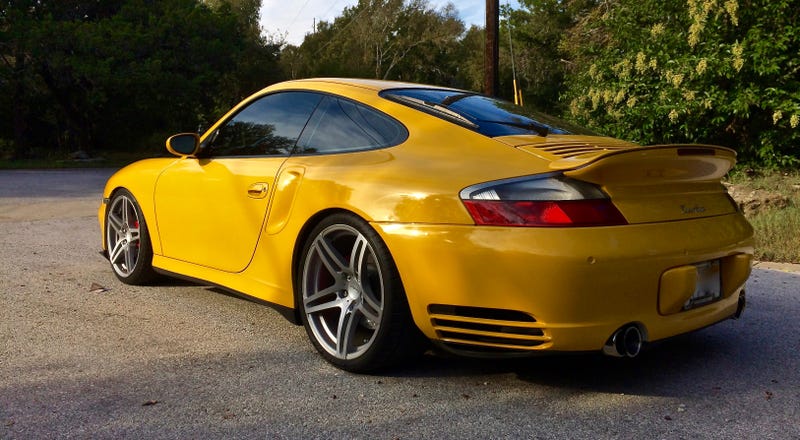 Everyone loves the Porsche 911. Even my wife, who couldn't care less about cars, appreciates a Porsche. The only disagreement I've ever heard when it comes to Porsches is whether we love the 914 now because it has no coolant, or still hate it because it's a Volkswagen.
I'd like to own a 911 one day. But not a regular 911—I'd want a turbo. Not because there's anything wrong with naturally aspirated 911s; I'm just addicted to the extra power in the turbo models. It's my crack. I need more power all the time. Too much is never enough. It's why I named my blog Torque Affair.
But the problem with 911 Turbos is that they are extremely expensive. Even a seven-year-old 2009 911 Turbo is going for roughly $65,000, and for that much money. That will buy you a hell of a lot of performance cars brand new with just as much power, or more, and far fewer headaches.
But if I go for a 911 that's 15 years old, I could manage to get my hands on a 911 Turbo for a hair under $40,000. Much better.
The 911s from that era, designated by Porsche as the 996s, are actually excellent cars. The 996s were the first water-cooled Porsches; this marked a departure from the prior generation air-cooled Porsche 993 which enthusiasts adored. The 993 was lighter, sounded better, drove better and to some Porsche fanatics, introducing the water-cooled 996s completely destroyed the Porsche brand. To them it was akin to burning a nation's flag—the ultimate desecration of what Porsche stood for. Whatever.
A 996 911 turbo rocks. I don't care how it's cooled. However, there is one big problem with the 996s. Those 911s have the widely-loathed runny-egg headlight look and are starting to look so outdated that they're about as visually appealing as a billboard ad for Walmart. The design is just not standing the test of time.
With all the new stuff out on the road, if you accidentally catch a glimpse of a 996, you'd rather divert your attention to graffiti in a tunnel than look at the car. Also, it doesn't help that most of the 996 911s I see on the road are falling apart—completely covered in bird poop, dented-in and utterly neglected.
I didn't think very highly of 996s either, until I laid eyes on this:
When I first saw this beautiful car, it took me a second to realize that what I was looking at was indeed a 996 and not a Walmart billboard ad. How could it look this good? Oh wait, it was the WHEELS and the lowered suspension! That made all the difference. I then realized that the sloppy-egg headlamps weren't the problem—it was the factory wheels, they were the problem.
These Roderick wheels, made specifically for the 996 Turbo, made the stock wheels look like the steelies on a base-model Chevrolet that would have been deemed to embarrassing for General Motors to even sell.
This particular 911 belongs to Josh Sargent, who reached out to me because he liked what I was doing on Torque Affair. I couldn't believe it—someone besides my dad was actually reading my stuff!
Josh bought the car in an estate sale in Florida a few months ago which previously belonged to an 82-year-old owner who was its only owner. After Josh bought the car, he had to put in some work and money into the car to fix things like a power steering leak, replace axles and bushings and added his own touches like changing the wheels and painting the center console to match the exterior color. The end result was a regular ol' 996 Turbo being into something worth lusting after.
Owning a turbo version of the 996 is probably the best reasonably-priced used Porsche to own because the 996s suffer from the infamous IMS (intermediate shaft) bearing problem. If you're not familiar with this issue, it's where the bearing can randomly fail without any warning and instantly kill your engine and ruin your life. You could preemptively upgrade the bearing to avoid getting an undesired heart attack, or you could just go with the much faster and cooler 911 turbo that doesn't have this issue.