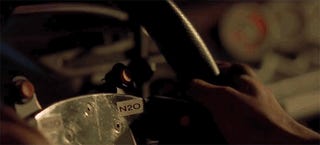 Out of the turkey coma? Good. Time to hit the garage then. A nitrous system is easy horsepower and David Freiburger from Hot Rod is here to show you exactly how to install one.
There's that moment in life when you go to the bathroom, wash your face, look into the mirror, take a deep breath and say the following out loud:
I need NOS. I need NOS! My car topped out at 140mph this morning. I need one of the big ones.
Freiburger's '67 Crusher Camaro has a 427 cubic inch Mast LS7 with around 700 horsepower in it, which makes this yellow beauty a sub-ten second car already. But of course he wants to go into the low nines, and that's where nitrous comes in.