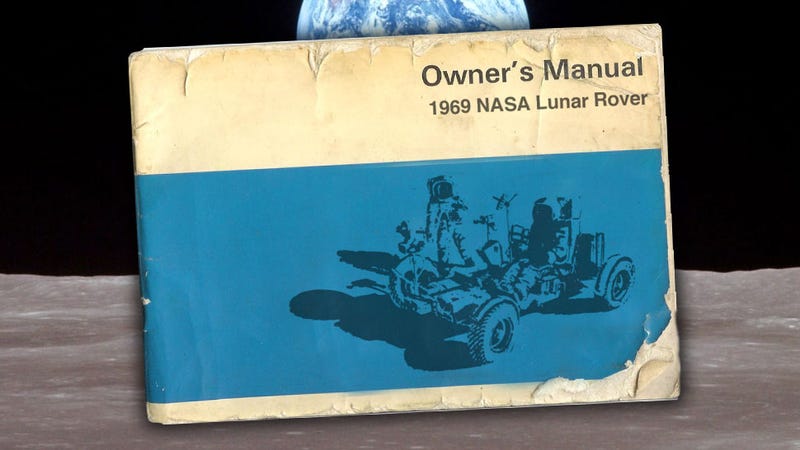 Right now, sitting unattended and unlocked, in a pretty empty neighborhood, are three of the most valuable cars ever built — the lunar rovers from the Apollo 15, 16, and 17 missions. Those sweet, sweet mesh-tire'd rides could be yours for the taking — if you only knew how to drive one. That's where we can help.
Of course, there's also the issue of getting to the moon to get one, and then getting it back to earth, re-entering the atmosphere, and landing with it and yourself intact, but I'm sure you can figure that part out — you're pretty resourceful. Think of your Grand Theft Rover adventure as having three parts:
1. Get to the Moon
2. Get the rover, drive it to whatever you're getting home in
3. Get home.
We'll help with number 2. Actually, it's really NASA that's helping with that, because they foolishly made available the whole Lunar Rover Operations Handbook! Suckers! Those things are practically ours now!
Of course, you're a young go-getter, with things to do and meals to eat and internet-arranged sex-meetings to attend — I get it. You just don't have the time to sit down and slog through some mimeographed crew-cut government tome about translational hand controllers and gyroscopes and pulse-width modulablah blah bullshit. You're barely able to make it through this sentence, I bet, the din of pagers and cell phones and telex machine bells blaring all around you, and there's probably someone shoving a stack of faxes in your arms right now.
You need a distilled, quick primer — you need to get to that rover, hop in, and go. Because you may be holding your breath, since spacesuits are pretty hard to come by. So here you go: the distilled basics of Lunar Rover driving.
1. Forget everything you know about normal driving.
Actually, wait — don't forget everything. Shit, I hope I'm not too late. Just forget the part about the physical controls of a car, because the Lunar Rover is different — it's one of those joystick controlled cars. Actually, it might be the only actually successful joystick-controlled car ever made.