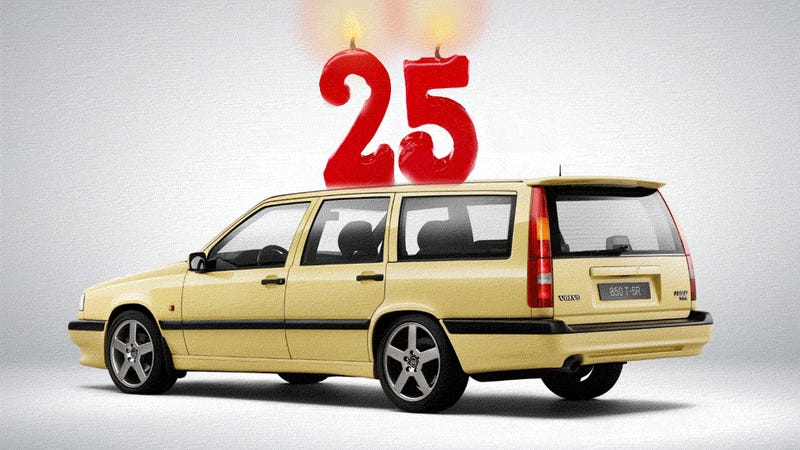 When you picture the boxy-yet-oddly-sleek Volvo 850, usually a wagon, it's easy to forget just how radical it was 25 years ago. Volvo was actually quite specific about how radical it was at the time, saying it was, and I quote, "A dynamic car with four world firsts." So there you go: it was quadra-radical.
Here's what those four firsts were:
The transverse five-cylinder engine, the Delta-link rear axle designed in-house, the integrated side-impact protection system, SIPS, and the self-adjusting front seat belt.
A transverse inline-five is absolutely bonkers, no question. The side-impact protection system was very important, sure, but that seat belt is pretty boring.
Instead of that, I'd rather remind everyone that the 850 was Volvo's first FWD American-market car (in Europe the DAF-based Volvos brought FWD to the company earlier) and I'd like everyone to picture the 850 wagon's massive skyscraper-tall taillights.
The development of the 850 started in 1978 with a project code-named "Galaxy"—that same project also developed the smaller FWD Volvos, the 440 and 460, in case you were curious.
The 850 started with a respectable 170 horsepower on tap, and in 1994 a T-5R model, developed with input from Porsche, was unveiled at the Geneva Motor Show, making a no-joke 240 HP. Volvo made 2500 of these speedy bricks in yellow, then 2500 more in black, and finally 2500 more in dark green.
Since they had such a fast wagon now, Volvo got back into racing in 1994 entering the British Touring Car Championship with one of the T-5R wagons. Seeing a boxy Volvo wagon running with those BMWs and Audis and Alfas is nicely entertaining.