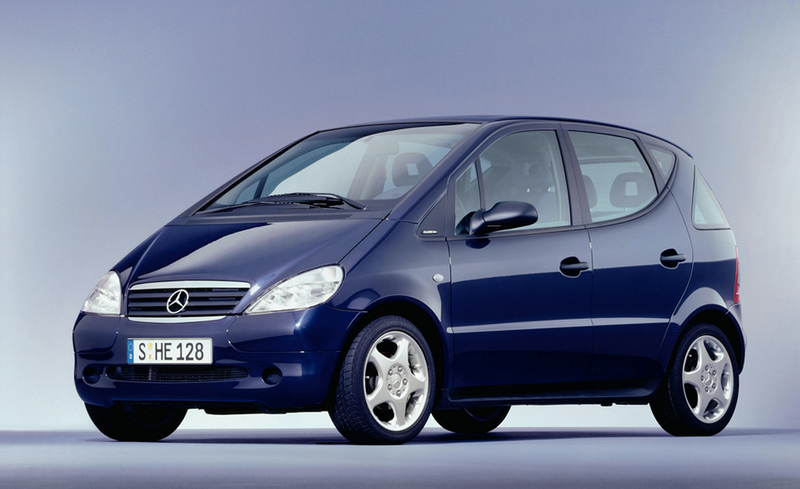 I still remember when the original Mercedes A-Class came out and changed the world as we know it. The year was 1997 – and while I may have been just nine years old, I consumed automotive media back then at approximately the same rate as I consumed fruit roll-ups.
For those of you who don't have the privilege of remembering the A-Class's debut, allow me to walk you through it. Mercedes-Benz – then known for manufacturing luxury sedans, luxury coupes, luxury convertibles, luxury wagons, and black limousines with little flags on the front bumper for oppressive dictators – decided it needed to increase sales. So they came out with a small, front-wheel drive hatchback known as the A-Class.
Well, this didn't go over all that well with the automotive press. If I remember correctly (and I don't, because I was nine years old for God's sake), these were a few of the headlines when the A-Class was first revealed:
Tiny New Mercedes Is a Huge Embarrassment to S-Class Owners – Motor Trend
Stupid New Mercedes Looks Suspiciously Like a Doorstop – Car & Driver
No Oil Wealth? Even You Can Now Afford a Mercedes! – Oppressive Dictator Monthly
The general feeling was that the A-Class would ruin Mercedes' reputation. Here was a company, famous for building high-end cars that everybody wanted to own, coming out with a tiny little hatchback designed to compete in a segment where "Party" is an acceptable name for a trim level. It was, according to the automotive press of the day, luxury brand suicide.
Well, guess what? It's been almost 20 years since the A-Class first went on sale, and 10 years since the arrival of the slightly larger B-Class. They've sold millions of units. They switched the styling from "wedge" to "car." There's a version that has – this is the truth – eighty-nine horsepower. And in spite of all that, an interesting reality has emerged: Mercedes-Benz is still famous for building high-end cars that everybody wants to own.
Yes, that's right: the little A-Class, the tiny car that the magazines predicted would be luxury brand suicide, had absolutely no effect on the desirability of the Mercedes-Benz brand. S-Class buyers kept buying S-Classes. E-Class buyers kept buying E-Classes. SLK buyers kept applying makeup on the highway. The world kept turning.
Interestingly, it's the same story throughout the luxury brand realm. For example: Land Rover – well known to be my favorite car brand, even though Land Rover PR guy Stuart Schorr once called me out in a Jalopnik comment – had no problem selling six-figure Range Rovers even after they came out with the Freelander, which was little more than a run-of-the-mill compact SUV with a) an upscale badge, and b) rampant transmission failure. And we all seem to let BMW get away with leasing the 3-Series for $299 per month to newly graduated sorority girls-turned-PR professionals, so long as they keep building cool stuff like the M5.