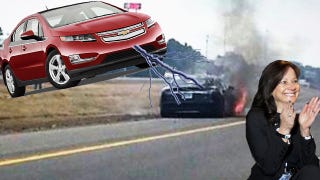 It's fair to say that in spite of its impressive technology, the Chevrolet Volt hasn't exactly set the world on fire. But General Motors says they'll get it right with the next Volt and another electric car in the pipeline, which have one goal: to break Tesla Motors once and for all.
Bloomberg Businessweek recently nailed an exclusive scoop with outgoing GM CEO Dan Akerson, who offered up some details on the next Volt as well as another upcoming purely electric vehicle. In short, the latter will have a 200 mile range, with a gasoline generator like the current Volt has, and a price tag of just $30,000, out by 2016. That would quite a drop from the current Volt, which already had its price slashed to about $35,000 but usually stickers in at more than $40,000.
Here's the full version:
Although GM has hinted that it's working on a next generation of electric vehicle, Akerson says it's aiming for a compact car that can go 200 miles on a charge and carry a generator, too. While it will be similar to the Volt, engineers are working on generators that could run on gas, diesel, or natural gas. The increased electric range is coming, in part, from advances in battery chemistry. GM is planning to bring the model out in 2016, for about $30,000, according to a person familiar with the idea who asked not to be named because the plans aren't public.

It's a project that the company doesn't want to say much about but signifies how it's been trying to move past inventing things to putting inventions into showrooms. "We want it to be a moon shot so we can surprise the competition," Akerson says.
That competition would almost certainly be Tesla, whose Model S is pretty much the electric car to have right now. While the Volt has a range advantage because it can use gasoline when necessary, its sales haven't really been outstanding as of late. And though the Volt has been around since 2010 now, you almost never hear about anymore, from GM or anyone else.
Remember, Tesla is also working on bringing the Model E sedan to market by 2016, and they say they aim for that car to have a 200 mile electric range with a price tag in the $40,000 ballpark.