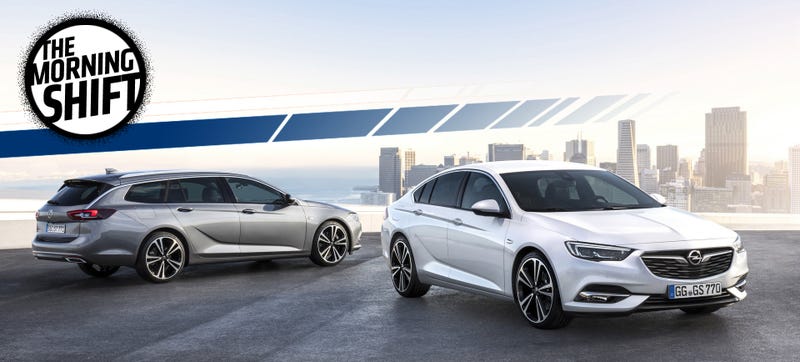 Good morning! Welcome to The Morning Shift, your roundup of the auto news you crave, all in one place every weekday morning. Here are the important stories you need to know.
1st Gear: Peugeot Is, Like, Interested In Buying Opel
GM's European subsidiary Opel (and its British cousin Vauxhall) hasn't really been doing the American company any favors. And by favors, I mean sold many cars, despite showing us a drop-dead gorgeous wagon. As a result, GM is possibly looking into selling Opel, which has piqued the interest of France's PSA Peugeot-Citroën Group, according to Bloomberg. The two companies are in formal talks now for GM to offload the brand onto the French.
The move would most likely give PSA a volume boost:
A combination would create a manufacturer with about 16 percent of the European car market, leapfrogging Renault SA to become the region's second-biggest auto group after Volkswagen AG. A deal would also be the second run at linking the two mass-market carmakers. GM, which has controlled Opel for nearly 90 years, sold a 7 percent stake in its French counterpart in 2013 after savings from a cooperation fell short of expectations.
So where does that leave GM in the European market, a place it has traditionally struggled? Apparently saying "screw it" and getting out.

PSA is considering the takeover to boost its scale, get access to Opel's engineering and electric-car technology as well as reap savings from joint purchasing and eventually cost cuts, according to one of the people. For GM, it would mark a clean exit from Europe, especially after the U.K. vote to leave the European Union weighed on the British pound and profits, the person said.
Maybe it will take a French touch for Opel to turn a profit.
2nd Gear: What I've Been Saying All Along
New and gas-powered Smart cars will soon be a thing of the past, as Daimler said that it will stop selling combustion engine Smart models in the U.S. and Canada, reports Automotive News. In their place, the company will focus on electric cars:
Dietmar Exler, head of Mercedes-Benz USA, said in a letter to dealers seen by Reuters that the sale of Smart cars with gasoline engines would stop when the 2017 model year ends this fall.

"Developments within the micro-car segment present some challenges for the current smart product portfolio," Exler wrote. "A dedicated focus on the electric drive in the U.S. and Canada provides a logical step to support a sustainable, zero emissions future."

The automaker will sell battery-powered versions of its Smart ForTwo and ForTwo convertible models in the U.S. and Canada. The change does not apply to other markets outside North America, Daimler said.
While this move is a sure sign of the woes of mini car sales in the U.S., it's also hard for me to sit here and not scream "I told you so."