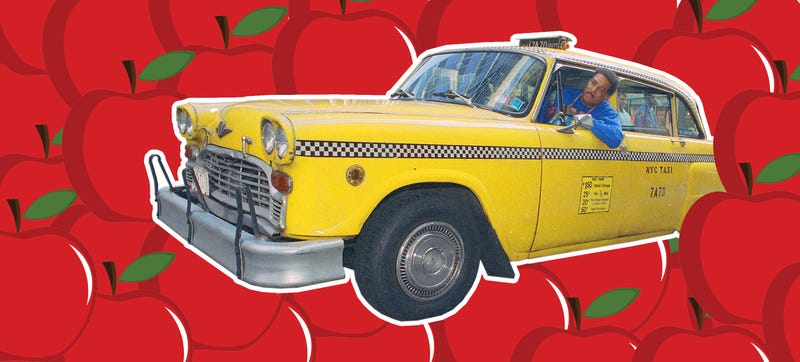 It's been fifteen years since the last Checker cab operated in New York City, and I think the joke has gone on long enough. I don't care how it's going to be done, but the Checker cab should come back in service.
The Checker Cab itself is a bit of a myth. It refers to a New York City that never was. NYC's streets have always been run by cars other than the Checker. In the '80s and '90s, Caprices clogged the avenues, and mainstream big American land yachts have ruled the streets of NYC pretty much since we gave up on electric taxis a hundred years ago.
Watch any old movie set in NYC and you'll see full-size Plymouths and Chevys and Fords and whatever else was big, cheap, and common at the time.
That's how it is now, with Crown Vics and Camrys everywhere, and that's how it has always been.
But that is the New York City that's experienced by people who live in New York City. It isn't the New York that exists in the minds of everyone else on the planet.
This is the New York of the imagined past, a grimy shithole where things happen, even if those things are the girl you met at a diner kills herself and you get blamed for everything and your head shaved and chased through a trash-strewn SoHo by a mob and an ice cream truck all because you lost all your money when it flew out the window when you getting a ride by a crazy guy driving your cab cab. Yes, a Checker cab.
It is the taxi of the dreamed-of important New York.
The Checker cab (officially the Checker Marathon) was a crude old car even when it was brand new. Built by an independent manufacturer from Kalamazoo, Michigan, the cars had a lot of room and not much else. It was so big in the back there was room for an extra set of foldaway seats.
The Marathon taxis were phased out through the '90s. The company had stopped making them in '82 and the last one served its final fare in the summer of 1999. The Checker was just too dirty, too noisy, too clunky to survive in the increasingly clean, modern New York.
Modern plans for a Taxi of Tomorrow are much more tenderhearted. The Nissan van that the Taxi and Limousine Commission has been pushing on the city for years now is a very fine vehicle. I've ridden in the back and it's spacious, comfortable, and there are even USB ports for you. It is eminently fuel-efficient and practical.